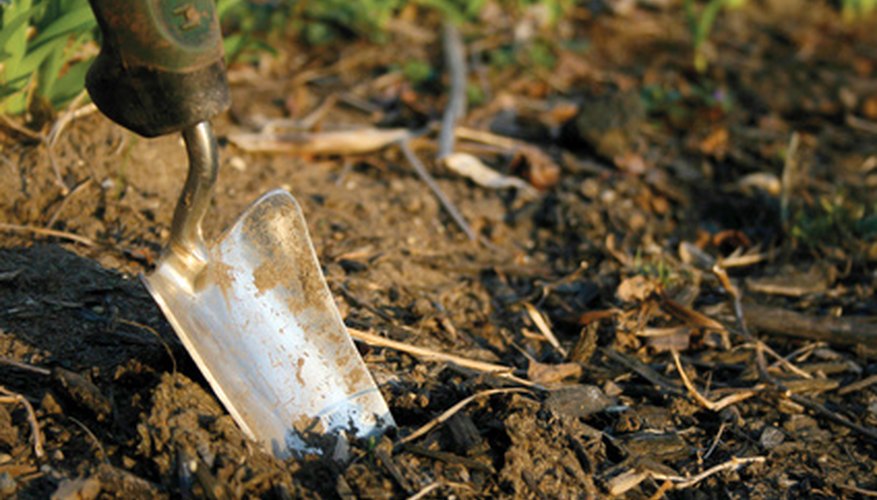 When shopping for a trowel--whether a mason's or gardener's trowel--the number one thing to look for is solid forged steel construction. This makes the trowel strong and flexible, which also makes it comfortable to use. A well-padded and ergonomically shaped handle is also an important feature.
"Deep Digger" Garden Trowel
Touted as "indestructible" by its maker, Brewer Design Service, Inc., of Shelbyville, Ind., the "Deep Digger" is all steel construction with a hard maple handle. Another variation features a solid aluminum handle. It sports a tapered digging blade in three colors: rose, blue and teal and three sizes: 6, 7 and 8 inches. They also make a larger trowel called the "Bigger Digger" with the same characteristics, but with an 18-inch handle for tough digging jobs.
Joseph Bentley Trowel
Originally introduced back in the 1930s, Joseph Bentley trowels--and other garden tools--were designed to last. The newest incarnation of the classic garden trowel, the 18-inch long midi-range "Border" or lady's trowel is especially designed with a long ash handle to give greater leverage for digging. It comes in a choice of stainless steel or carbon steel. (Stainless is lighter.) It is well balanced, and a special rebated handle insert prevents twisting as the wood of the handle dries and shrinks with age. A short-handled version with a stainless steel blade is available as well.
Spear & Jackson: E-Series Trowel
This modern-looking trowel sports a mirror polished stainless steel blade that resists rust and soil buildup. The high-tech materials of the handle offer a good grip and a comfortable feel--great for preventing blisters if you do a lot of gardening. Spear & Jackson have other trowel designs as well, including a traditional wooden-handled style with a carbon steel, epoxy-coated blade called "Neverbend."
OXO Good Grips Gel-e Trowel
This is a lower priced trowel with some interesting features. It is made of stainless steel with a comfortable, nonslip grip enhanced with a soft gel material. It has measurement markings etched directly into the surface of the blade to aid in planting bulbs or transplanting seedlings to the proper soil depth. It also boasts serrated cutting edges on either side for severing small roots. It comes in two lengths and blade sizes and has a lifetime warranty.
Radius Garden Trowel
New to the gardening world, the Radius trowel is for persons with arthritis or limited grip strength. Designed ergonomically to be comfortable with long use, it aids people with carpal tunnel syndrome or weak wrists to lever soil out without wrist strain. It has an aluminum blade for light weight.