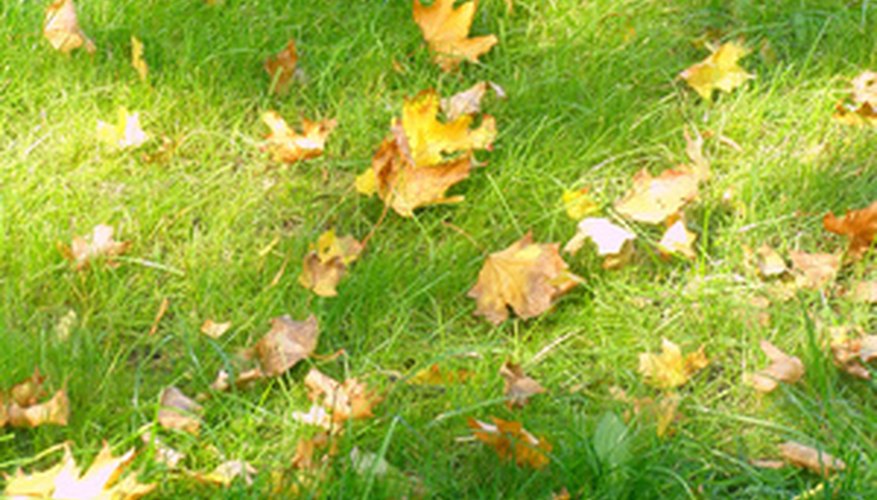 Though you may be conscientious in your yard-maintenance program, it is possible that at some point in the life of your lawn you will notice brown spots on grass blades. The problem, commonly known as leaf spot, is more likely to occur in the spring and fall, when temperatures are a little cooler. However, other conditions or causes may also cause brown spots on grass blades and should be ruled out before assuming the fungus is present.
Causes
Grass with brown spots often has one of two primary causes. The first is a fungus that causes leaf spot. The type of fungus is not generally important as the condition can be controlled with many general-use fungicides. The other possibility could be excessive nitrogen. This can also lead to grass fungal infections as fast growth can sometimes happen at the expense of plant health.
Identification
The spots may range anywhere from purplish brown to pale yellow. Often there is a brown circle with a pale center present when leaf spot is the culprit. Unlike other fungi, which may create patterns over a portion of the lawn, leaf spot grows more randomly. Therefore, if you can see no pattern, such as rings or spots affecting the area as a whole, leaf spot is a prime suspect.
Diagnosis
If you tend to fertilize often, try cutting back or at least changing the formula to one that has less nitrogen. If the problem clears up, then you are able to conclude that was the cause. If the problem does not clear up, then a fungal infection is the next likely culprit. You could also take the grass into the agricultural extension office for identification of the problem. There, trained professionals should be able to help you.
Natural Prevention
If you choose not to use fungicides at first, there are a number of other methods that may be effective in controlling leaf spot. If you have already tried to reduce fertilizer, then be careful about over-watering. Moist conditions often encourage fungus growth. Also, often the problem will go away with the onset of colder or warmer weather outside of the spring and fall. Aeration can also help control fungus and promote a healthier lawn.
Chemical Treatment
In some cases, the infection could kill the grass and you may want to take a more proactive approach. Using a flowable sulfur fungicide on the affected area every three to five days should take care of the problem. As with all chemicals, it is good to keep pets and children away from the treated area for a day or two after each application.