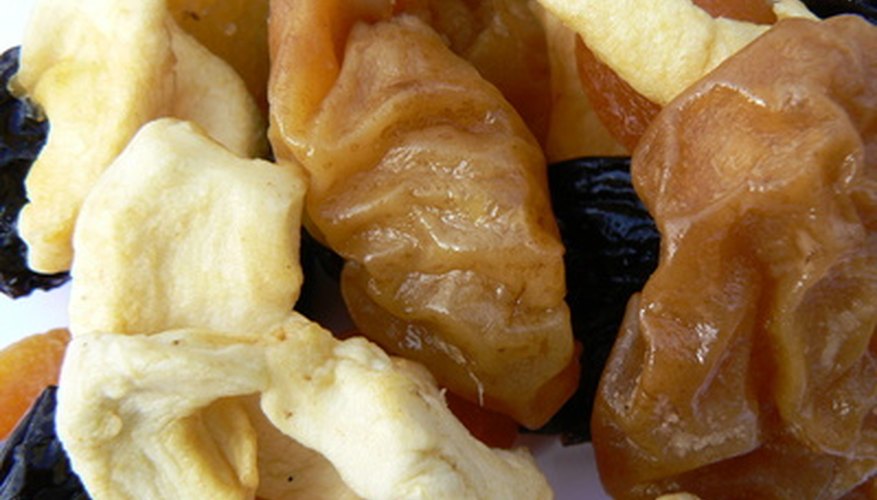 Drying fruits extracts 80 percent of the moisture content to allow for the dried fruit to have a longer shelf-life than whole fruits, according to the National Center for Home Food Preservation. Varying sizes in the fruit dried results in some pieces having the correct moisture level while others have too much or too little. To solve this problem and preserve the life of dried fruits, Colorado State University recommends a conditioning of the dried fruits. For home dried fruits, the Seasonal Chef recommends pasteurizing the fruit to kill any insects or eggs that might have survived the drying process. Combine these techniques to get the longest shelf-life possible from your dried fruit.
Lay the dried fruit on a baking pan in a single layer, and preheat your oven to the lowest setting available.
Pasteurize the fruit in the oven at 175 degrees F, or the lowest possible setting, for 15 minutes.
Remove the fruit and let it cool completely.
Fill a glass jar one-half to two-thirds full with the dried fruit and seal it.
Leave the jar at room temperature for one full week to condition it. Shake the jar daily to distribute excess moisture released from the fruit.
Divide the dried fruit into individual portions and place them in zip-top freezer bags.
Store the freezer bags in a paper sack to block out the light, and keep it in a cool, dark spot. Use the freezer for storage if you live in a warm, humid climate. Keep dried fruits for six to 12 months before discarding.
Things You Will Need
Dried fruit

Baking pan

Lidded glass jar

Zip-top freezer bags

Paper sack
Resources