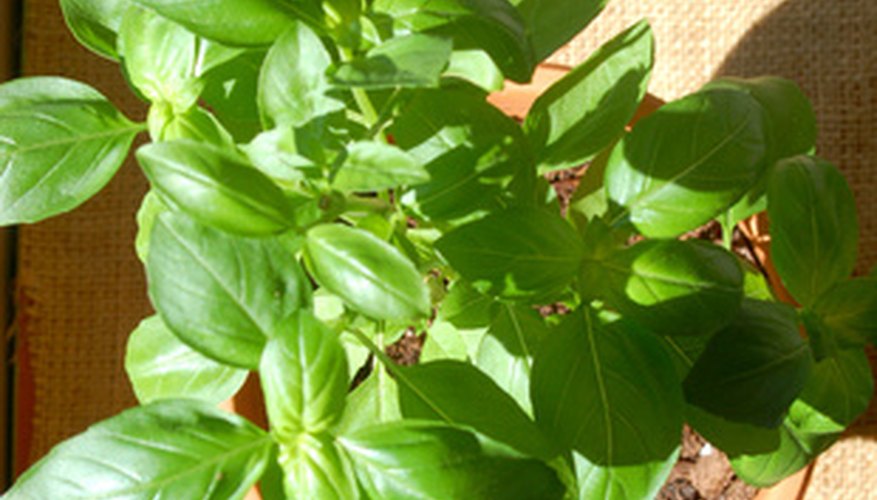 The pungent smells and flavors of herbs typically make them unattractive to insect pests. If your herbs ever are attacked by bugs, however, try a homemade insecticidal soap--the solution kills many bugs upon contact--before resorting to potentially toxic chemical-based insecticide sprays. For the best results, Organic Gardening Magazine suggests spraying the soap onto your herbs in the evening when evaporation is slowest, thereby keeping the herbs moist longer for more bug-killing action.
Basic Soap Spray
Utah State University recommends a straightforward and simple mixture made of 1 tsp. liquid dish soap in 1 gallon water. This product needs to be sprayed onto all exposed surfaces of your herbs every three days until the bugs are dead, according to the university.
Garlic Spray
An insecticidal soap spray can do more than just kill bugs. Gardeners can also make a dual-purpose spray that deters animal pests like deer and rabbits. Boil two heads of fresh garlic in 1 qt. water for a couple minutes. Turn off the heat and let the garlic sit in the pot for eight to 12 hours. Add 2 tbsp. liquid dish soap and pour the solution into a spray bottle. The soap will kill bugs while animals will find the garlic smell repulsive, according to the Care2 environmental network.
Horticultural Oils
A homemade oil-and-soap spray offers residual effects that kill bugs over a period of several months. Organic Gardening Magazine recommends such formulations for herbs that may have insect larvae or eggs. Mix 1 cup soybean oil in a spray bottle with 1 tbsp. liquid dish soap. Add 1 cup water. Shake the bottle thoroughly to mix the oil, water and soap before spraying your herbs. Remember to shake it every time you spray it, as the oil and water will separate.