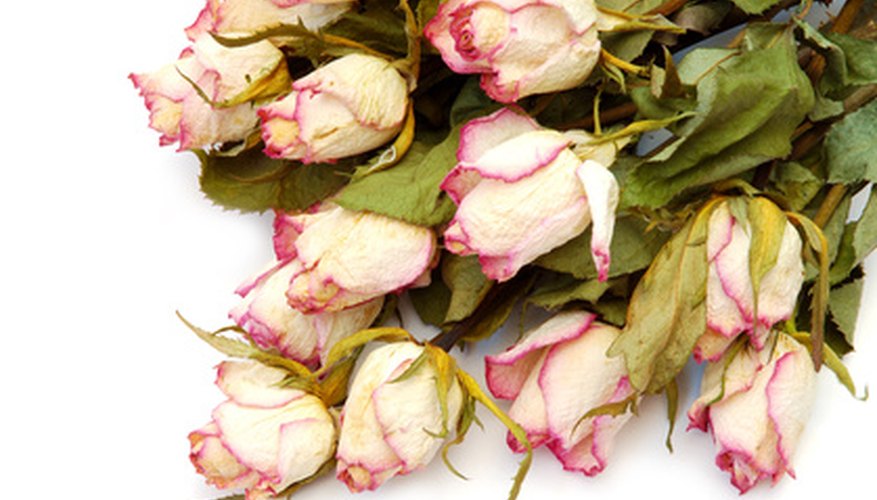 When you preserve a flower from a significant occasion like a funeral, you want to make sure the flower remains as close to its original state as possible. One of the best and easiest ways to preserve your keepsake is to dry it. When you hang a flower upside down to dry, it turns dark, wrinkled and distorted. But you can preserve your flower's shape and color by quick-drying it with silica gel and heat.
Fill the bottom inch or so of your microwave-safe container with silica gel. This bottom layer will prevent the flower from resting on the bottom of the container, which would flatten your flower's petals. Don't be afraid to add more silica gel if you find your flower is not well supported.
Gently nestle your flower into the silica gel. The way it sits in the container is the way it will be permanently dried. Take care not to disarrange or bend any of the flower's petals.
Cover the flower with at least 2 inches of silica gel. The best way to do this without bending the flower out of shape is to pile the silica gel at the stem end of the flower, then gently scoop the silica gel forward so that it nestles around the flower's petals.
Place a shallow dish of water in the microwave to keep the flower from becoming too dry.
Place the container in the microwave. Drying time varies from flower to flower. Begin by setting the microwave on the "Defrost" setting for one minute. Leave the flower to cool for 30 minutes after each minute of heating, then check to see if it is dry. If it does not make much progress, increase the microwave's level but keep checking after one-minute intervals.
Remove your dried flower from the microwave and cover it immediately. Open one corner of the lid for ventilation, then let the flower cool and set for 24 hours.
Remove the flower from the silica gel and brush it off with a small paintbrush.
Mist the flower with acrylic spray.