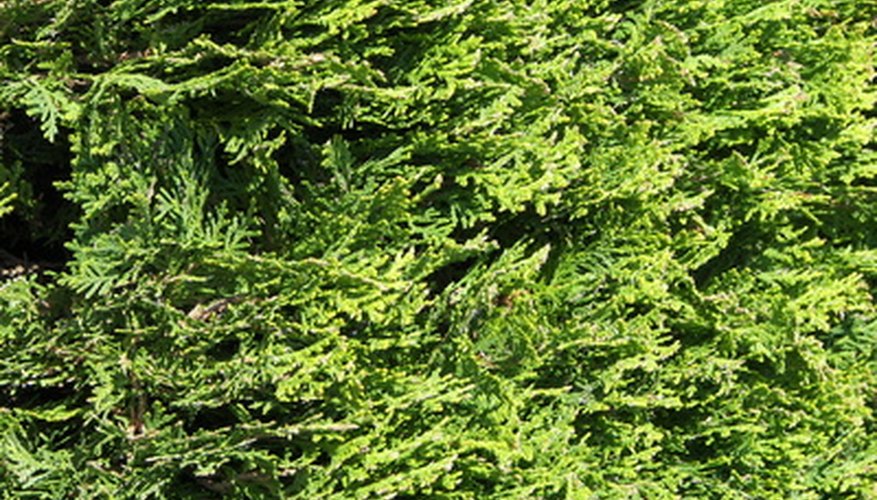 USDA Hardiness Zone 7 has winter temperatures that get as low as 0 to 10 degrees. Frost causes problems for many plants in Zone 7 and some evergreens are no exception. Overall, evergreens do very well in Zone 7, providing color all year long. The evergreens that have frost trouble will come back the next spring and start all over again.
More Info about Hardiness Zones
Firethorn
Firethorn ( Pyracantha coccinea) is also known as scarlet firethorn and is a member of the rose family. The shrub grows up to 10 feet tall and 12 feet wide producing sharp thorns, dark green leaves and 2-inch wide clusters of small white flowers that bloom in the spring. Small green berries ripen in the fall, changing to red, orange or yellow and lasting until spring. Plant firethorn in full sun and a moist to dry, well-drained soil. The plant is used against a well, on slopes or as an informal hedge.
Rice-paper Plant
Rice-paper plant (Tetrapanax papyiferus) is also knows as Aralia papyifera, and Fatsia papyifera and is a member of the ginseng family. The plant is an evergreen shrub or small tree that grows up to 15 feet tall and about the same in width. The plant produces palm-shaped leaves that grow from 10 to 15 inches across and round, wooly ball- shaped flowers growing in clusters up to 3 feet long, blooming in Autumn. The flowers are followed by clusters of small, black berry-like fruits. Plant the rice-paper plant in light shade and a soil that is moist. The plant will die back to the ground in the winter and re-appear in the spring. The rice-paper plant does well against a wall and in containers.
Rue
Rue (Ruta graveolens) is also known as common rue and herb of Grace and is a member of the citrus family. The plant grows from 2 to 3 feet tall and almost as wide. The sea-green, oblong or spoon shaped leaves grow from 3 to 5 inches long and small, yellow flowers boom in mid-summer growing in cluster above the leaves. Plant rue in full sun and a moist to dry soil. The shrub is planted in herb gardens, used as a low hedge, as a border plant or in rock gardens. Crushed leaves make a good insect repellent.
Myrtleleaf Holly
Myrtleleaf holly (Ilex myrtifolia) is also known as myrtle holly, myrtle dahoon and myrtleleaf dahoon and is a member of the holly family. The plant grows as tall as 40 feet with tiny, stiff, leather-like leaves, small, white flowers that bloom in the spring and bright red, yellow or orange berries. The tree will be either male or female and only the female will produce the berries. Plant myrtle holly in full sun and a wet soil. The berries are a favorite food for the local birds.