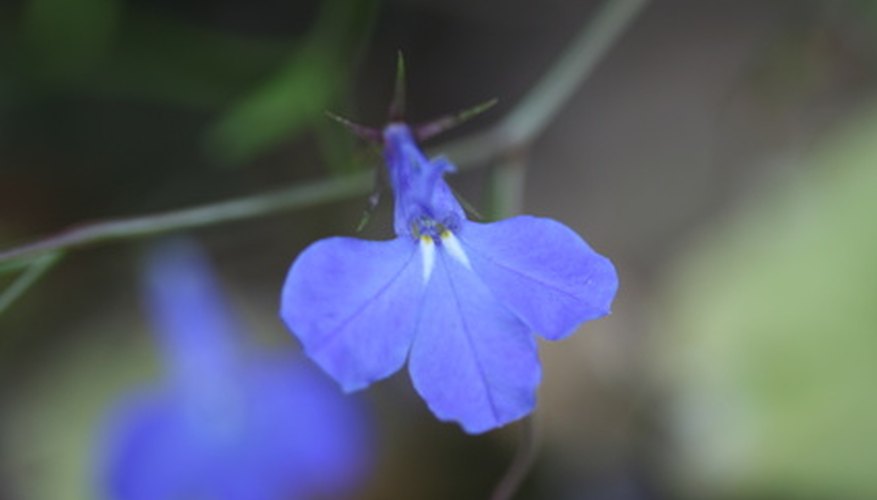 Lobelias are tubular, two-lipped flowers that resemble honeysuckle and are available in both annual and perennial varieties. The annual types are compact plants in either low-growing or trailing forms. The perennial types are larger with vertical stalks rising above mounded foliage. Lobelias bloom from midsummer to early fall, depending on the cultivar. Both annual and perennial lobelias will self-sow if the growing conditions are to their liking.
Edging Lobelia (L. erinus)
Edging lobelias are low-growing tender perennials usually grown as annuals. Edging lobelias produce flower clusters in bright shades of white, violet, blue and pink. The small leaves are dark green and may be tinged with bronze or purple. Edging lobelias form thick cushions of flowers 3 to 6 inches tall. Trailing kinds of l. erinus can reach lengths up to 18 inches and are used when a cascading effect is desired.
Cardinal flower (L. cardinalis)
Cardinal flowers are short-lived perennials bearing brilliant red flower spikes on tall, erect stems over clumping mounds of foliage. Cardinal flowers have dark green leaves on purplish stems that grow 3 to 4 feet tall. Cardinal flowers live for only a few seasons but will often self-sow. Cardinal flowers are a favorite of hummingbirds.
Growing Lobelias
Lobelias are difficult to grow from seed, taking about two months to reach suitable planting size. Buy bedding-sized plants from your local nursery instead. Cut edging lobelia plants back by a third after the first blooms are spent to stimulate a second crop of flowers that will last until frost. Plant lobelias in humus-rich soil that is evenly moist and well-drained. Cardinal flowers cannot tolerate drought. A light layer of mulch will enrich the soil and help retain moisture. Fertilize monthly. More frequent feeding stimulates leggy green growth with fewer blooms.
In the Garden
Lobelias prefer full sun where summers are cool. In warmer climates, plant in partial shade and provide protection from strong afternoon sun. Edging lobelias are well-suited for edging walkways and flower beds or as pretty fillers for containers. The trailing varieties make a lovely choice for hanging baskets and window boxes or as a pretty under-planting in mixed flower containers.
Cardinal flowers are lovely planted along a pond or water garden. They make a nice addition to the perennial border or flower bed as long as they are kept evenly moist. Lobelias attract both hummingbirds and butterflies. Some insects find it hard to navigate the long tubular flowers of L. cardinalis, making Cardinal flowers reliant on hummingbirds for pollination.
Problems With Lobelias
Lobelias are hardy, dependable plants rarely bothered by disease or insects. Aphids may occasionally attack edging lobelia and can be dislodged with a strong stream of water from the garden hose. Be sure to wet the undersides of the leaves. Treat serious infestations with insecticidal soap. Although lobelias require moist soil, standing water can lead to root rot. Make sure the soil drains well.