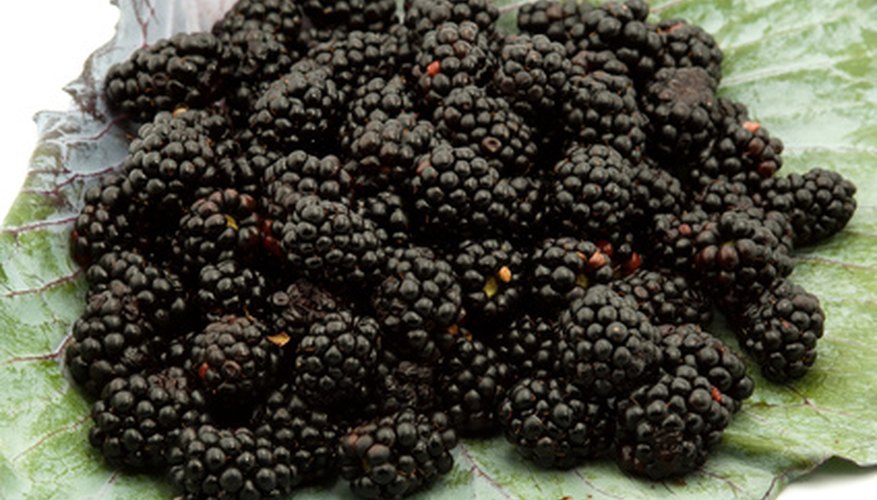 Blackberry plants in Kentucky come in two of the three major types of blackberries: semi-erect and semi-trailing. Kentucky's winters are too cold for trailing varieties. Semi-erect blackberry plants in Kentucky need the support of a trellis, are generally more productive and larger and have a later bloom time than the semi-erect blackberries; semi-erect blackberries are sweeter.
Kentucky Requirements
Plant blackberry plants in Kentucky during early spring in deep, fertile, well-drained soil and allow for partial shade. Since all Kentucky blackberry varieties are self-fertile and pollinated by honeybees, it is important to avoid applying insecticides to the plants while in bloom. If insecticides are absolutely necessary, use a product with "low bee toxicity", as recommended by the University of Kentucky Cooperative Extension Service. Also, blackberry plants in Kentucky are commonly adversely affected by a disease referred to as sterility. Caused by a virus, brambles that are otherwise healthy and blooming produce abnormal fruit. Be sure to purchase healthy plants; if plants become diseased, destroy every part of the plant.
Semi-Trailing Blackberry Plants (Thornless)
Utilize a trellis as a support for semi-trailing blackberry plants in Kentucky; the trellis should have end posts measuring approximately 6 feet above ground level placed 30 feet apart. At heights of 3 feet and 6 feet, affix a 10-gauge wire from post to post. Cultivars include: Back Satin (not hardy enough to withstand harsh winters; plant in warmer areas of Kentucky); Chester (has a high resistance to cane blight, firm skin and a tart flavor); Dirksen (often paired with black satin in warm areas but is hardier and less susceptible to cold-weather injury); Hull (has high-quality, very sweet fruit and aesthetically pleasing color).
Semi-Erect Blackberry Plants
For vigorous semi-erect blackberry plants in Kentucky, cut back 2 to 3 inches of the tops of new shoots in the beginning of the summer season; at the arrival of spring, prune branches on the sides of the plant approximately 10 to 12 inches to ensure the production of healthy fruit, as suggested by the University of Kentucky Cooperative Extension Service. Semi-erect blackberry cultivars in Kentucky include: Apache (develops large fruit and has notably erect canes); Cherokee (yields a high amount of quality, large fruit with firm skin); Cheyenne (produces large fruit with firm skin and small seeds); Choctaw (ripens very early with large fruit and small seeds); Comanche (is highly productive, creating very large fruit with firm skin); Darrow (is winter-hardy with medium fruit and firm skin; often found with sterility disease in Kentucky).