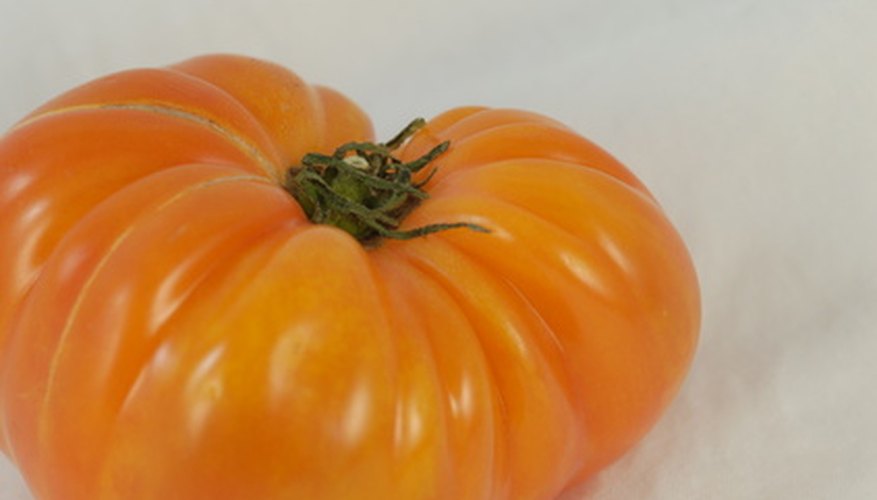 Heirloom tomatoes predate World War II, after which there was a switch to hybrid tomatoes that are more uniform in appearance, with thicker skins more suitable for trucking longer distances out of season, according to the Virginia Cooperative Extension. But a sustainable agriculture movement, appealing to home gardeners and farmer's market customers, has brought back into fashion delicate, but more flavorful heirloom tomatoes. The state of Arkansas mostly falls into USDA Hardiness Zones 7 and 8, which means high, sustained summer heat for heirloom tomatoes, which are well-suited to the Razorback state's climate.
Brandywine
Brandywine, which matures in 78 days, produces fruits with a deep pink skin and red flesh. It's "one of the best tasting tomatoes," according to Craig R. Andersen, an extension horticulturist specializing in vegetables at the University of Arkansas. Gerald Klingaman, a retired extension horticulturist at the university, notes that "most experts agree that the Brandywine is one of the best." Individual fruits weight up to 1 lb. Plants may produce low yields and uneven ripening, Klingaman notes. On the plus side, Organic Gardening.com notes the resistance of Brandywine to fusarium wilt, a potential problem in hot Arkansas gardens.
Arkansas Traveler
This mild pink tomato, developed at the University of Arkansas in the 19th century, became a Southern stalwart from northwest Arkansas to North Carolina, according to Gary Ibsen's TomatoFest.com. As one of the few heirlooms that never cracks, according to "The Arrows Cookbook," Arkansas Traveler looks good in a salad. After 85 days, Arkansas Traveler provides a heavy crop of 8 oz., rose-pink tomatoes considered top tasting.
Cherokee Purple
Along with other black-red and black-pink tomatoes, including Cherokee Chocolate, Noir de Crimee and Black from Tula, Cherokee Purple colors up best in Arkansas and other southern states, Carolyn J. Male writes in "100 Heirloom Tomatoes for the American Garden." This heirloom matures in 80 days, and provides large fruit with sweet flavor.
Amish Paste
Growers looking for a smaller tomato for canning or making sauces can try Amish Paste, described as "the ultimate paste tomato" according to the Heirloom Seed Shop in Norfolk, Arkansas. This Roma-type tomato with good flavor comes from an Amish community in Wisconsin.