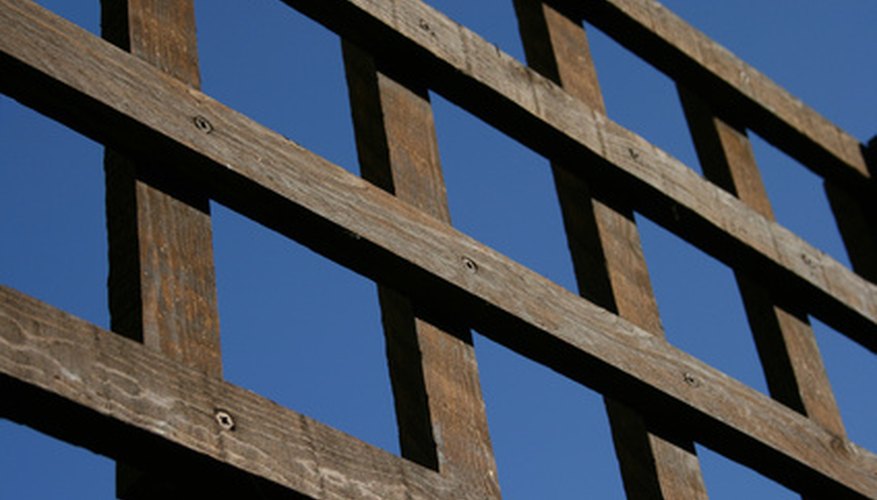 Berry vines provide not only a delicious harvest, by also an aesthetic beauty to a landscape. This is especially true when berry vines are trained on a trellis. A trellis can be small to fit a 2-by-3-foot space, or large, to accommodate an entire wall or actually create a privacy wall. When building the berry trellis, keep in mind the area's dimensions where you want to place the trellis, and measure the boards accordingly.
Create the layout of the berry trellis. Lay out the five 4 1/2-foot boards vertically on a sturdy, even surface. Line them up side by side so the edges are even. Measure 5 inches between each board and space them apart evenly.
Set the second set of boards in a pile next to the the first set. Take one board from the second pile and lay it horizontally across the top of the vertical set, 5 inches down from the top edge. Make sure the horizontal board is centered and exactly perpendicular to the set of vertical boards.
Measure down 5 inches from the first horizontal board, and draw a line straight across all the vertical boards. Repeat this process (it will resemble a tic-tac-toe board), measuring every 5 inches, until you get to the bottom. Place the remaining boards across the marks, parallel to the first horizontal board. Make sure all edges are evenly lined up and the second set of boards is centered.
Hammer in a nail at each intersection of the wooden boards, right in the center.
Pick up the berry trellis and flip it over to the other side carefully and repeat Step 4 on this side, hammering in a second nail at each intersection.
Stain or paint if desired.