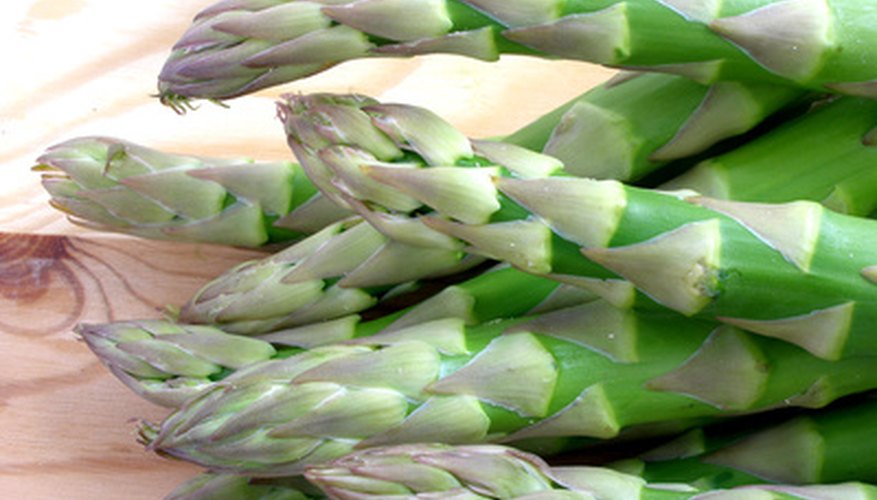 Asparagus is a perennial vegetable that will grow in the garden for up to 15 years. Foliage can grow as high as 5 feet, so careful planning is necessary so that you don't shade your other vegetables. Asparagus is usually planted on one-year crowns, however, the planting procedure is the same for either year. The vegetable is not harvested until the third year, so planting two-year crowns means less waiting. A crown is the root system of the asparagus plant grown from seed. Establishing the bed is a little more work than for most vegetables, but well worth the trouble.
Choose a location that has full sun and is well draining. This will be a permanent location for the asparagus, so place it where it won't be damaged each year when you are cultivating the rest of the garden.
Prepare a 4-foot wide and any length you like bed by tilling the soil to 12 inches deep. Place 3 inches of compost, ½ pound of well-rotted manure per square foot and ½ pound per 100 square foot of 10-20-10 fertilizer over the soil. Till the soil again to a 6-inch depth, this time mixing in all the amendments to the soil. Do this in late winter or early spring.
Take the temperature of the soil starting in early spring. When the temperature reaches 50 degrees for three straight days, you are ready to plant the crowns.
Dig furrows in the bed 5 inches deep. Rows need to be 5 feet apart. Sprinkle 1 pound of 0-46-0 per 50 foot row in the bottom of the furrow.
Place crowns 1 ½ feet apart in the row on top of the fertilizer. Alternate the crowns from one row to the other so they are not directly across from each other. This will provide ample space and room for ventilation so the plants will dry out and avoid mildew problems.
Back fill the furrow loosely with the soil, bringing it back to its original level. Compacting the soil will reduce the amount of plants that come up.
Water the soil to the depth of the crowns immediately after planting. You will not need to water again on a regular schedule, only during drought conditions.
Cover around the plants with an organic mulch once the plants emerge, which should take about two weeks. Asparagus does not compete well with weeds and the mulch will keep the weeds from growing.