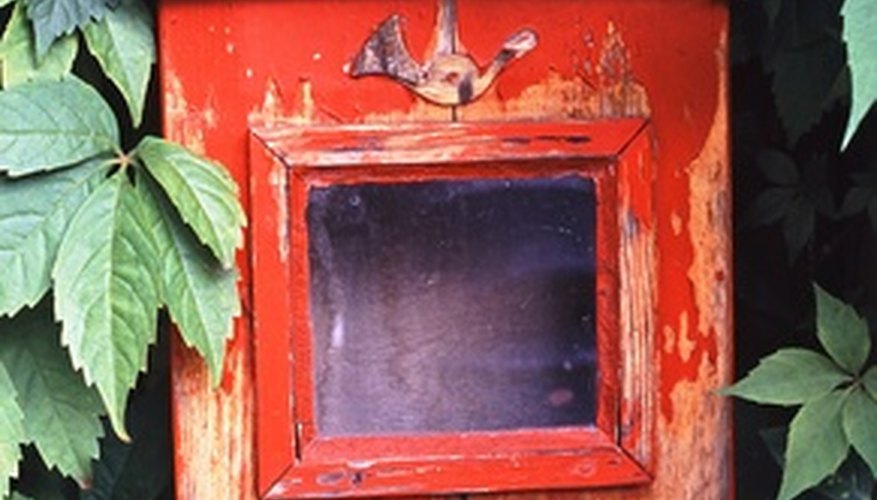 A focal point as you enter and leave the home, mailboxes flanked with colorful plants creates a showy garden display. Simple clusters of spring-blooming bulbs nestled around the mailbox spruces up a typically boring area of the home. Planting flowers and plants with varying growing seasons around the mailbox allows you to have a constant source of color throughout the year.
Creeping Vines
Twisting, twirling creeping vines filled with masses of bright blooms jazzes up a mailbox with vibrancy. Grown in dozens of varieties, each with its own distinct shape, height and color, creeping vines are an essential landscape addition to the mailbox. A hardy and strong evergreen vine, Carolina jasmine, retains its foliage and color all year long, keeping the mailbox looking colorful even in the winter. Growing 10 to 20 feet long with fragrant, yellow flowers, Carolina jasmine has a moderate to rapid growth rate and fine to medium texture. The twining stems of Carolina jasmine easily creep around a mailbox post to fill the space with foliage. Tolerant of drought, and wind, Carolina jasmine withstands a heavy pruning, to come back fuller and stronger than before. Bronzing in winter, Carolina jasmine is a classic mailbox vine.
Another vibrant mailbox vine is the scarlet clematis. Growing 5 to 10 feet long with scarlet to red, bell-shaped blooms, scarlet clematis emerge in summer to last until frost, making for a long-lasting creeping vine. Scarlet clematis also have a rapid growth rate, and its twisting and twining stems creep around the mailbox to create a grand summer display. Tolerant of drought, scarlet clematis withstands a pruning in late spring to promote new growth.
Perennial Flowers
Perennial flowers have the ability to shoot back year after year for a long-lasting landscape display. When planted around the mailbox, perennial flowers provide a constant source of color to the space. Purple coneflowers and black-eyed Susan, both perennial flowers, are tough, drought-resistant blooms that withstand a wide range of soil varieties. Black-eyed Susan has large bright yellow flowers that emerge in summer to last until frost, creating a long bloom display around the mailbox. A butterfly attractant, Black-eyed Susan's grow 1 to 3 feet tall and 6 to 12 inches wide, the ideal sized flower to flank a mailbox. To promote a long blooming season, deadhead or remove the spent blooms as soon as they are noticeable.
Purple coneflowers are also summer-blooming and have purple to rose-colored petals with gold to brown centers. Growing 24 to 36 inches tall, purple coneflowers have an upright, clumping form that is striking when hugging the mailbox. A tough perennial that tolerates the hot blaze of the summer sun, purple coneflowers flower until the first frost.
Mixed Herbs
Create an aromatic scent around the mailbox using herbs. Perennial herbs like thyme, rosemary and Italian oregano not only look vibrant around the mailbox with their varying shades of green, but also can be added to dishes for a burst of flavor. Versatile, mixed perennial herbs need only a one-time planting to continue to bloom throughout the years, depending upon the environment. Many mailboxes are located off of the road and in full sun, where herbs thrive and flourish.
Mix different heights together to create balance around the mailbox. For instance, a tall, upright herb like cilantro and parsley are ideal planted among the back of the box for height with a mounding oregano plant and creeping thyme in the front. Rosemary, a larger herb variety, is also an evergreen to retain its silver to blue needles all year long.