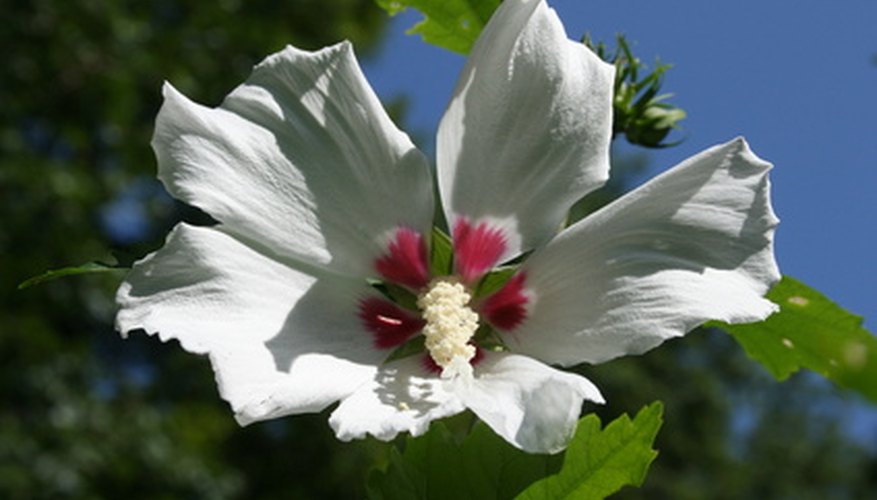 The rose of Sharon is a native shrub in India and China that is now a favorite landscaping plant for property owners throughout the world. The rose of Sharon has a spreading vase-like appearance and produces large flowers during the summer months when many shrubs will no longer bloom. The rose of Sharon has multiple hybrids from which to choose and has been present in North America for more than four centuries.
Size
According to the University of Connecticut Plant Database website, a Rose of Sharon averages between 8 and 10 feet tall, although some can grow shorter or taller depending on the cultivar. The rose of Sharon can be from 6 to 8 feet wide and often features multiple stems originating from the roots that develop into an upright bush with vertical branches. The shiny green leaves are 2 to 4 inches long and the flowers range between 2 and 4 inches wide.
Growing Conditions
The Floridata website describes the rose of Sharon as "vigorous and durable," saying the bush will grow in nearly all kinds of soil. The ideal setting is in rich fertile ground that drains well when wet; the rose of Sharon does well in full sunshine or in partial shade. The rose of Sharon can be transplanted with little trouble. After pruning this shrub, you often will find the flowers grow larger on the new growth.
Uses
Many landscapers will include the rose of Sharon in a shrub border, while some will select this to be a specimen tree and allow it to stand by itself in a conspicuous part of the yard. The rose of Sharon, when planted in a row, can provide you with an effective screen from your neighbors or from those passing by on the road. Another common usage of this species is to plant them in groups.
Types
Of the many cultivars of rose of Sharon that exist, among the most popular are the Diana, the Ardens, the Aphrodite and the Morning Star. The Diana has large white blossoms that stay open through the evening hours. The Ardens features pinkish flowers, while the Aphrodite has flowers that are a darker pink. The center of the Morning Star hybrid's blooms is a gray-purplish-pink hue.
Considerations
The rose of Sharon is one of the last plants to grow leaves in the spring, leaving it bare for a large portion of those months. The flowers, as appealing as they are, are the shrub's major drawing point, as the species lacks ornamental bark or showy foliage. The rose of Sharon is subject to such problems as leaf rust, cankers and leaf spot, with insect pests such as the spider mite and aphid able to infest and damage the bush.