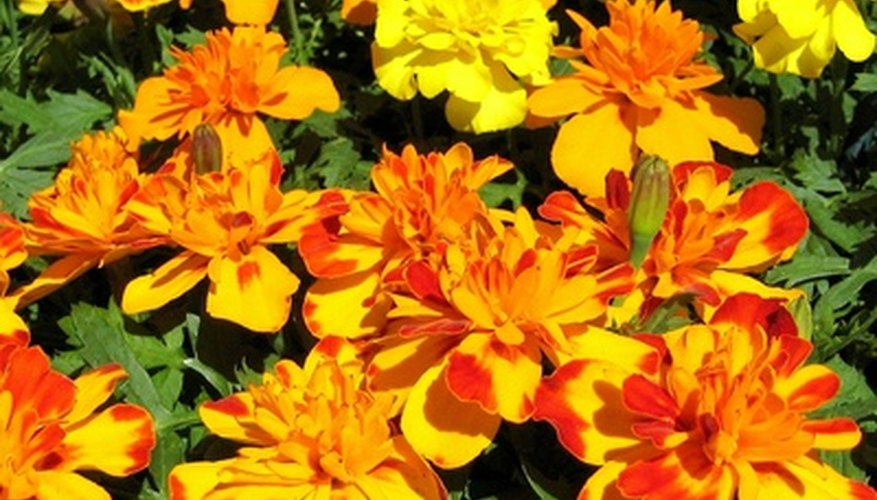 Marigolds not only add bright splashes of color and drama to the late summer garden, they can also protect other plants from soil-borne root nematodes. Using marigolds to repel insects has long been a part of folk wisdom, and now modern science is confirming what our grandmothers knew. According to the University of Hawaii, marigolds secrete chemicals into the soil around them that repels and controls microscopic insect pests in a process called allelopathy. Plant a barrier of marigolds around your vegetables or ornamental plants to control nematodes without synthetic chemical pesticides.
Select marigold species with strong nematocidal qualities such as Tagetes patula, T. erecta and T. minuta. Determine which cultivars are best for your area based on day length and average temperature. For example, use short day varieties like "Cracker Jack" in lower latitudes with shorter summer day length to assure they will build up enough biomass before blooming.
Plant marigold starts in rows spaced 6 inches apart around the entire perimeter of your bed or garden. Push loosened soil aside with the tip of a garden trowel and tuck the start into the soil. If you start seeds directly in the garden bed, take care not to disturb the young plants with strong irrigation spray, which can prevent them from rooting.
Irrigate regularly to keep the soil around the marigolds evenly moist.
Feed the marigolds with a balanced high-nitrogen fertilizer once a month.
Turn the marigold plants into the soil at the end of the season and allow them to compost as nematocidal green manure.