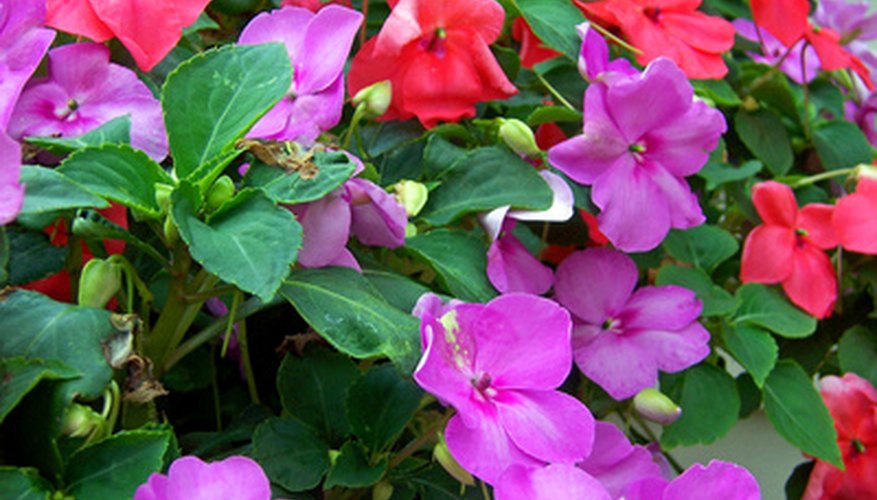 The shady areas of a garden can be difficult to populate with flowering plants. The familiar impatiens and begonias always make good selections. They are available in a wide range of colors, and they are adapted to most areas of the US. Other types of flowering plants can also brighten a shady garden. Make careful choices, and your shade garden will reward you with blossoms from spring until fall.
False-Forget-Me-Not (Brunnera macrophylla)
Very desirable for shade garden plantings, False-forget-me-nots form a neat mound of heart shaped leaves about 10 to 12 inches high. In the spring, clusters of small blue flowers with yellow eyes grow above the foliage on 18 inch stems. Also called Siberian bugloss, the plants spread by rhizomes or by self-seeding, forming a tight ground cover if growing conditions are right. The plants prefer consistently moist soil, rich in organic matter. False-forget-me-nots do not tolerate dry soil.
Japanese anemone (A. hupehensis, A. vitifolium, and A. tomentosa)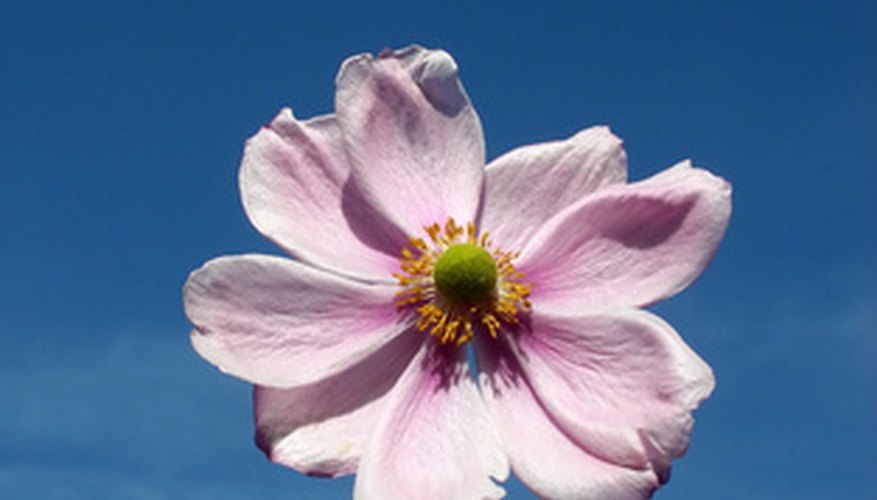 Japanese anemones are perennials with strong fibrous root systems. They spread in moist, shady areas, or they can be divided into clumps and grown as specimen plants. Japanese anemones are 3 to 4 feet tall, with flowers that average 3 to 4 inches in diameter. Their size makes them valuable in the shade garden, where flowering plants tend to be low-growing. Japanese anemones bloom in the fall, when other shade plants are becoming lifeless. You will find them in white and several shades of pink.
Primrose (Primula sp.)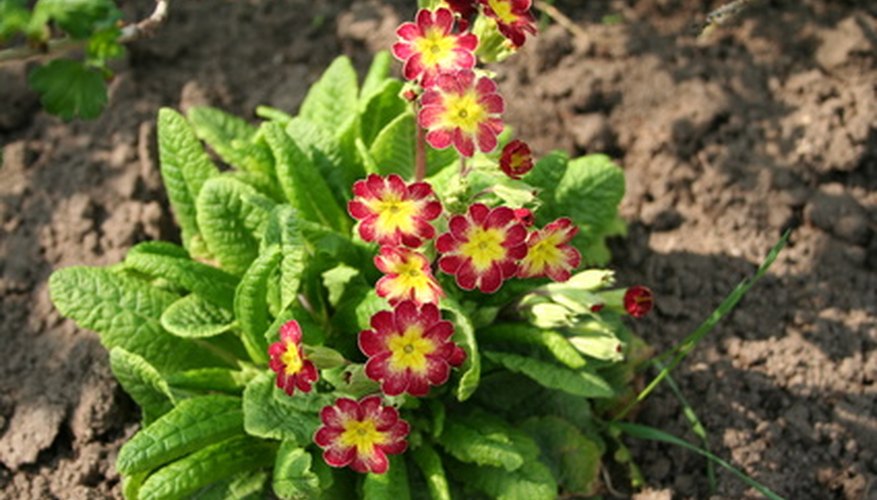 Primroses bloom in dozens of colors, beginning in the spring and continuing through early summer. They are small plants, 8 inches high or less, and they grow in small mounds. The flowers are clustered loosely above the foliage. Primroses prefer deep shade and moist soil, rich in humus. These hardy little plants grow well under large conifers. They are especially appealing when planted in drifts for a naturalized look.
Wood aster (Aster divaricatus)
Wood asters grow wild in many areas of the US, especially in eastern woodlands. The white flowers bloom in September and October in the northeast. When the flowers open, the centers are yellow, surrounded by elongated, daisy-like white petals. As the flowers mature, the centers change to a rosy purplish color. The plants are 1 to 3 feet tall, and they prefer a dry, shady location. Although the small flowers are only 3/4 inch to 1 inch across, the plants bloom profusely.
Virginia bluebells (Mertensia virginica)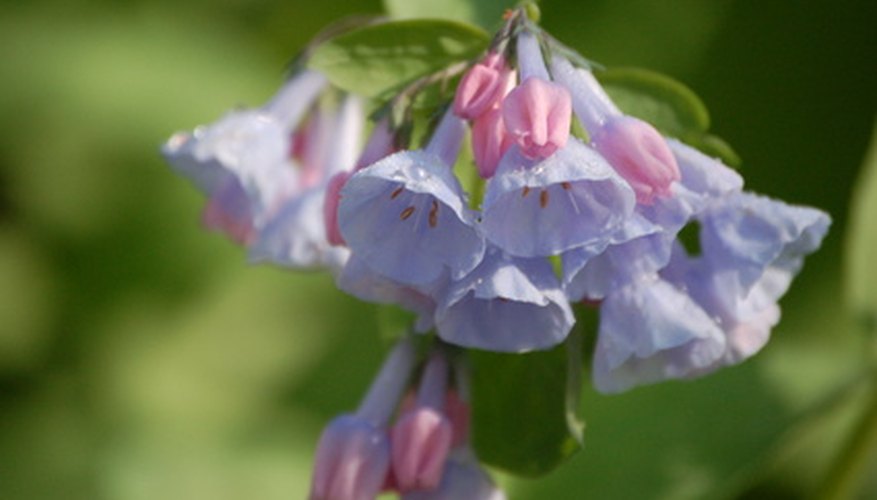 Virginia bluebells grow in moist woodlands and floodplains of rivers and streams. They grow as clumps, but if left undisturbed they will spread en masse to carpet a shady area. The foliage appears early in the spring, followed by long stems bearing clusters of loosely packed, trumpet shaped flowers. The flower clusters droop and sway in the breeze. Individual flower buds begin as pink, and change to sky blue as they open. The foliage dies back soon after the flowers fade. For this reason, many gardeners overplant with annuals like impatiens, or they use summer cover plants like hostas to share the space.
Hostas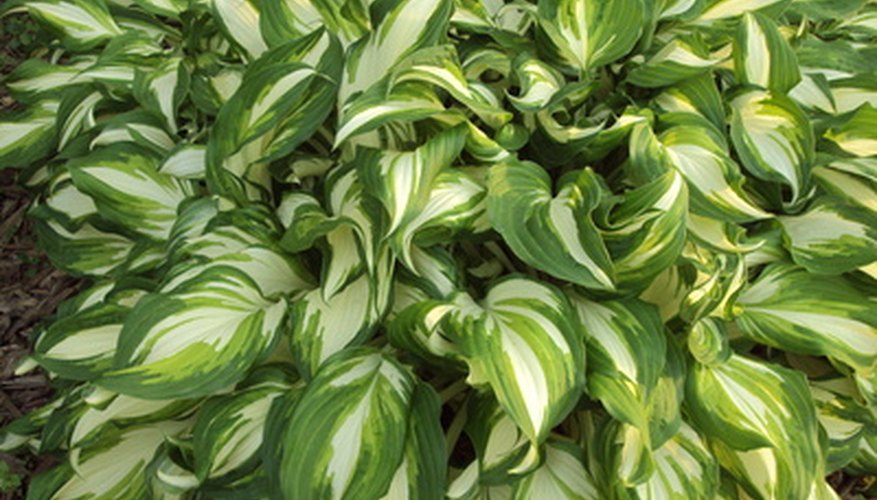 Although hostas are known for their interesting foliage, they also produce flowers in the summer. Borne above the foliage on long stems, hosta flowers resemble lilies. Over 2,500 varieties of hostas are grown worldwide, with a wide range of foliage colors, leaf types, and variegations available. The flower clusters are usually white, but some are creamy, light pink or lavender. Hosta plantaginea, which is known for its fragrance, is a parent plant for many new hybrids which have been specifically developed to produce fragrant flowers. Hostas need rich soil that is evenly moist. They grow best along the edge of deep shade, where they may receive dappled sun. (Res 1)