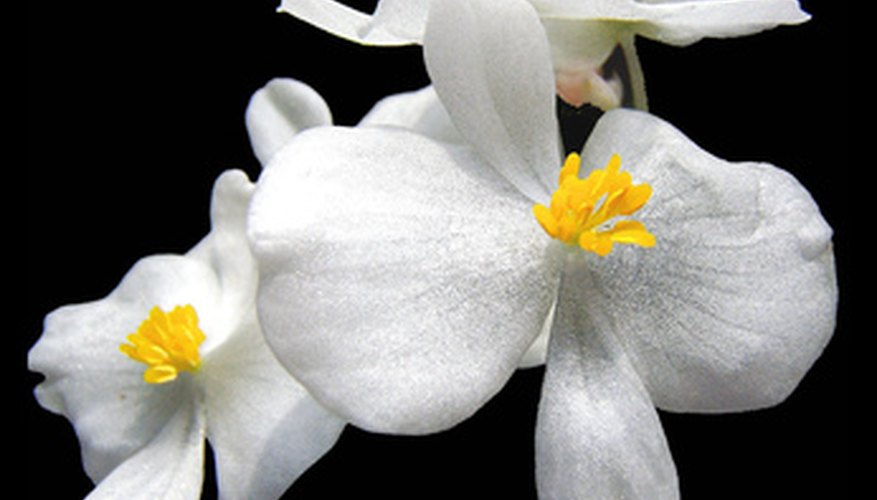 A popular perennial that is used in some regions as an annual, the waxed begonia (Begonia x semperflorens-cultorum) has a succulent stem, oval leaves and is available in a range of colors. Foliage on these plants, which may be bronze, green, mahogany, or red, is attractive as well. These mounding plants may grow to 18 inches and are hardy as perennials in U.S. Department of Agriculture Zones 9-11. Waxed begonias are fibrous or tuberous-rooted begonia varieties.
Deep Rose or Red
Referred to as either deep rose or red, Waxed Begonias are available in a reddish color. The "Gum Drop Red" and "Gum Drop Rose" are among the more popular cultivars. These are sterile plants that flourish in Zone 10 and above and produce red or rose flowers against dark green foliage. The Gum Drop series of Waxed Begonias grows to about 12 inches.
The "Gustav Lind" cultivar is also available with rose blooms and is hardy to Zone 9.
Pink
The "Baby Wing Pink", "Charm Pink" and "Double Pink" cultivars of Waxed Begonias produce pink to light pink blooms. The "Baby Wing Pink" cultivar is derived from the "Dragon Wing" cultivar and produces blooms in loose bunches. This cultivar is more upright than mounding and can tolerate partial shade, particularly in warmer regions.
"Charm Pink" produces light pink flowers in clusters and the foliage is green with yellow variegation. These plants are also fairly upright and may be planted in part sun to part shade. The "Double Pink" culitvar has double blooms in light pink.
White
The "Senator White", "Begonia Whiskey" and "Gum Drop White" cultivars of waxed begonias produce white to cream-colored blooms. "Senator White" has bronze-green leaves and grows to about 12 inches. This cultivar prefers slightly acidic soil.
The "Begonia Whiskey" cultivar, which is part of the Cocktail series, has smaller, white flowers with bronze leaves and also prefers acidic soil. This plant will grow to about 8 inches. There is also a white available in the Gum Drop series.
Multiple Colors
The Challenger series of waxed begonias is available with multiple-colored blooms. The plant produces white, pink and red flowers on one plant against green and bronze leaves.