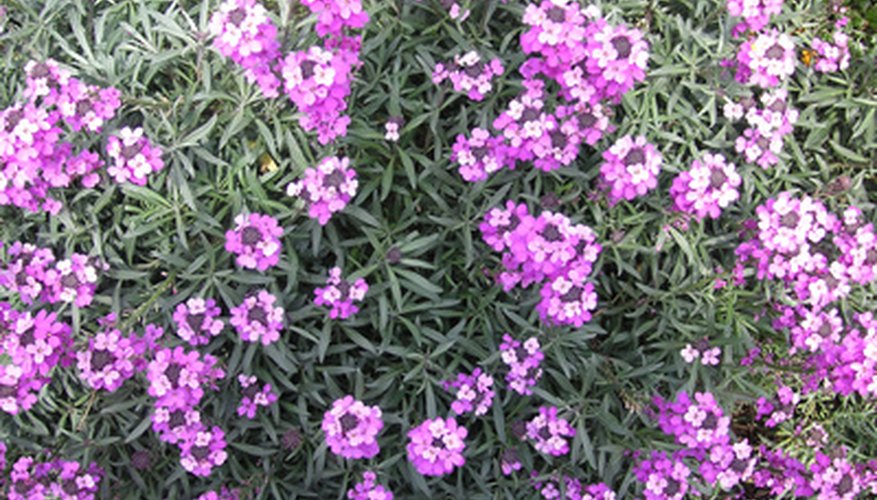 Gardeners must give annual plants sufficient space. Adequate spacing ensures each plant gets enough air, soil nutrients, water and sunlight for vigorous growth, according to Purdue University. Though individual spacing needs vary according to the species, research can help you determine how much space each plant requires so you know just how many annuals you can plant to fill an area.
Prepare the planting area. If you're growing the plants in the ground, use a spade to break up the soil to a depth of 6 to 8 inches and mix in 2 to 3 inches of aged compost. If you're planting a pot with annuals, fill the pot with commercially prepared potting soil or equal parts of loam, peat moss and vermiculite.
Look up the spacing needs for the plant on the seed packet if you're starting the annuals from seed. If your seed packet doesn't specify, or if you're planting transplants that don't have labeled space requirements, look up the scientific or common name for the annual plant in Cornell University's garden guides (Resources).
Plant the annuals. If you're planting them in the ground, space the plants according to the seed packet or Cornell's listed spread for mature plants (for example, 6 to 12 inches for African daisies and 12 to 24 inches for aubrieta). If you're planting in containers, Iowa State University (ISU) recommends dividing the recommended space in half for a lusher and more compact appearance. For example, ISU says alyssum should be spaced 6 inches apart if grown in the ground but only 3 inches in pots.