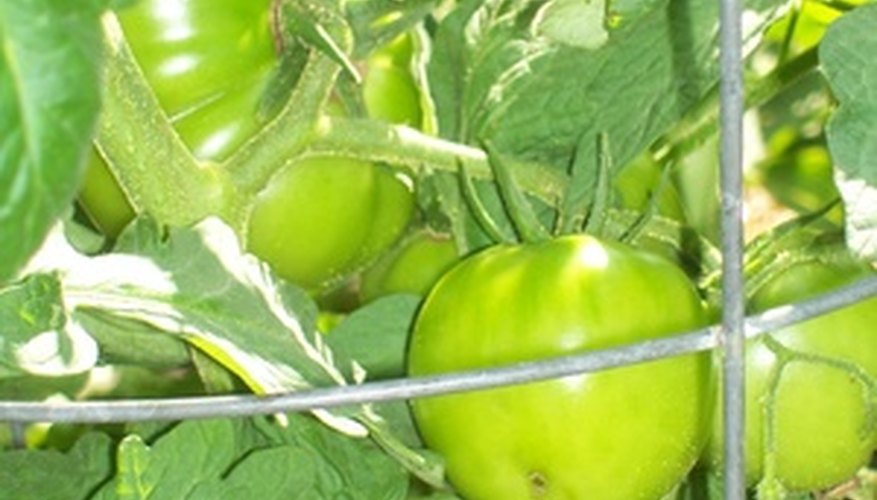 As tomato plants grow, the weight of the developing fruit can cause the plants to bend and break. For this reason, tomato plants need to have support while they are growing. The most common type of support is a simple, cone shaped tomato cage. There are also circular tomato towers that are used as tomato cages, and both types are available at lawn and garden centers and nurseries. Properly placing a tomato cage may seem obvious, but there are specific guidelines you should follow in order to be sure they are placed correctly and will support the plant throughout its life cycle.
Place your tomato cages in place as soon as you plant your tomato plant. If you wait until the plant is larger, you may damage the root system or the plant branches.
Pull the end stakes at the bottom of cone shaped wire tomato cages out and away from touching each other. This will give you a wider base at the bottom of the cage. For other designs, make sure the bottom wire stakes are straight and can be inserted deep into the ground.
Center the tomato cage over top of the seedling, and insert the bottom stakes down into the ground to a depth of 4 inches.
Test the sturdiness of the cage by gently moving it back and forth. If the cage does not feel secure, or it feels that it could easily be moved by the weight of a mature tomato plant, add supports to the cage.
Insert three, 2-foot plant stakes 6 inches into the ground on the outside of the tomato cage, but touching the outside wire. Secure the stakes to the cage with the use of plastic cable ties.