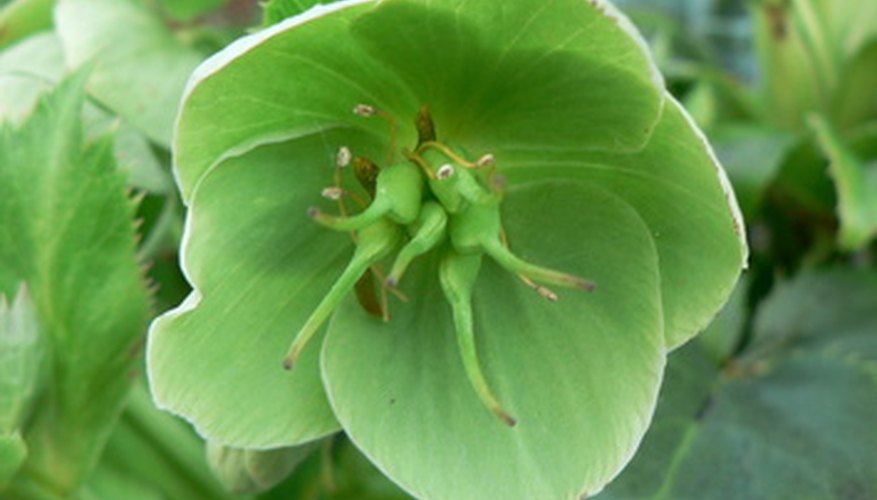 Create a lush landscape design by planting green flowers, a vibrant color for the garden. Green flowers are not as common, making them even more interesting when grown around the landscape. Tucked among a perennial bed with other green blooms, green flowers create a balanced yet showy look to the garden. Grown in varying shapes, sizes and varying shades of green, green flowers also help to complement colorful flowers among the garden.
Limelight Hydrangea
Limelight hydrangea (Hydrangea paniculata Limelight) is a rapid growing panicle hydrangea variety with summer-blooming, lime-green flowers. Growing 6 to 10 feet tall and wide, limelight hydrangea blooms are ideal as fresh-cut flowers or grown along a perennial bed or border for their striking green blooms. Limelight hydrangeas have large green leaves that complement the flowers to create a commanding landscape presence. Versatile, limelight hydrangea tolerates a wide range of soil varieties, including clay soils. Limelight hydrangea requires full sun to partial shade and fertile, well-drained soils to thrive. The USDA Hardiness Zone for planting is 4 to 8.
Hellebore
Hellebore argutifolius (Helleborus argutifolius) is an evergreen flower with pale green blooms that keep their vibrant color all year long, including winter. Growing large than any other hellebore variety, hellebore argutifolius grow up to 5 feet tall. The blooms on the Hellebore argutifolius have a nodding appearance an grow 1 to 2 inches in diameter. The foliage on the hellebore argutifolius is made of three serrated leaflets that grow off of the central stem. Marbled in appearance, the foliage is light green with splashes of blue and white. Hellebore's are self-seeders and can spread throughout the garden to create masses of striking plants. Frost-tolerant, hellebore argutifolius thrives in cold soil and outdoor temperatures, making for a hardy green flower garden variety. The zone for planting is 6 to 11.
Bells of Ireland
Bells of Ireland (Molucella laevis) are summer-blooming annuals with chartreuse flowers. Growing 3 to 4 feet tall, bells of Ireland require a spacing of 12 inches. The bells or flowers of bells of Ireland grow 1 to 2 inches wide and are veined with white. Ideal as a fresh-cut flower, bell of Ireland have an upright, straight stem that is also striking tucked along a garden border. Bells of Ireland require full sun to partial shade and well-drained soil with a consistent amount of moisture. The zone for planting is 4 to 11.
Zinnia Envy
Zinnia envy (Zinnia elegans Envy) is an annual flower with bold lime-green blooms. The semidouble blooms of zinnia envy grow 2 inches wide and sit atop the tall, erect stems. Growing 30 inches tall, the bright green stems make ideal fresh-cut flowers. Summer-blooming zinnia envy attracts butterflies to the garden to create the quintessential garden feel. Thriving in full sun and high heat, zinnia envy flowers require well-drained soil. To prevent overcrowding, make sure to allow enough spacing between each plant. Grown along a flower border or within a mixed perennial bed, zinnia envy are a magnificent green flower variety. The zone for planting is 3 to 10.