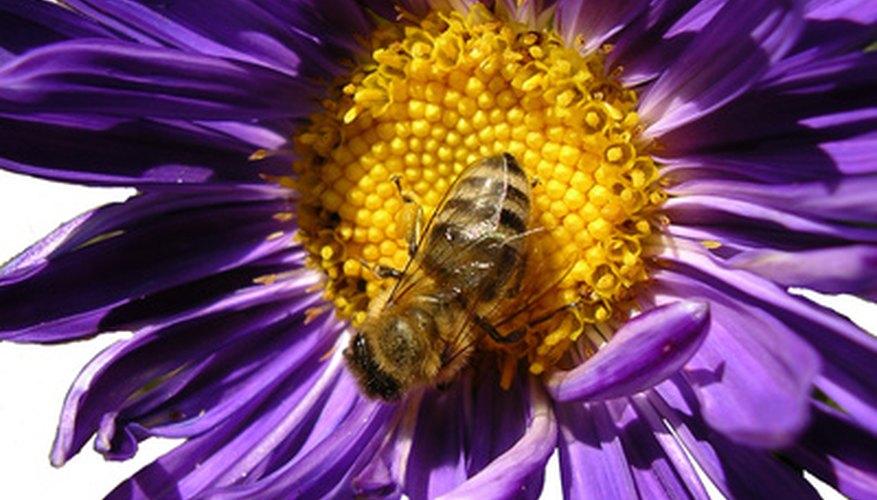 bee on aster image by Kostyantyn Ivanyshen from Fotolia.com
Outdoor plants create a showy garden presence and jazz up outdoor spaces with color and texture. Grown in dozens of varieties, each with its own distinct color, shape and texture, hardy, perennial outdoor plants are the best to grow because of their long-lasting qualities. Evergreen plants with their ability to retain their foliage and color all year long are also ideal plants to grow among the garden.
October Skies Aster
Deer- and frost-tolerant, October skies asters are a hardy fall-blooming dwarf aster variety. Its mounding, low-growing shape grows 1 to 3 feet tall and wide, ideal for flanking a front perennial bed. The purple to dark blue flowers bloom in fall when most other flowers are beginning to die back for the season, creating a bright burst of color to the garden. A prolific bloomer, October skies asters can be divided in spring to replant in other areas of the garden. October skies asters have a moderate growth rate and the flowers are a butterfly attractant, creating the quintessential garden feel. October skies aster require full sun to partial shade and dry to medium soil moisture. The USDA Hardiness zones for planting are 4 to 8.
Butterfly Bush
Alternate leaf butterfly bush (Buddleia alternifolia) is a deciduous shrub with medium to fine texture. With its rapid growth rate and long, arching form that holds the pendulous-shaped branches, the alternate leaf butterfly bush is an ideal landscape plant to grow for a makeshift privacy screen. Growing 10 to 20 feet tall and 8 to 10 feet wide, the alternate leaf butterfly bush is a hardy plant that can be severely pruned to shoot right back up, taller and stronger than before. Drought-tolerant, butterfly bushes have bright purple to lilac flower blooms that grow on dense panicles. Summer-blooming, the alternate leaf butterfly bush produces blooms on the previous year's growth. Adaptable to a wide range of soil types, including clay, alternate leaf butterfly bushes require full sun to light shade and loose, nutrient-laden soils. The zones for planting are 5 to 7.
Hellebore
Hellebore (Helleborus) is a spreading evergreen plant that produces vibrant winter-blooming flowers. Hellebore grows 1 to 3 feet tall and wide and has a clumping growth habit. Frost-tolerant, hellebore blooms thrive in cold soil temperatures but without sacrificing their bright blooms. The bloom colors include green, purple, white, yellow and pink and appear to be nodding down to the ground. Lasting for many weeks, hellebore has long-lasting, leather-like foliage that is shiny green to provide much-needed color to the winter landscape. They require part to full shade and nutrient-rich soil that is well drained and neutral to alkaline. Divide hellebore plants after their blooming season to plant in other areas of the garden. The zones for planting are 4 to 9.