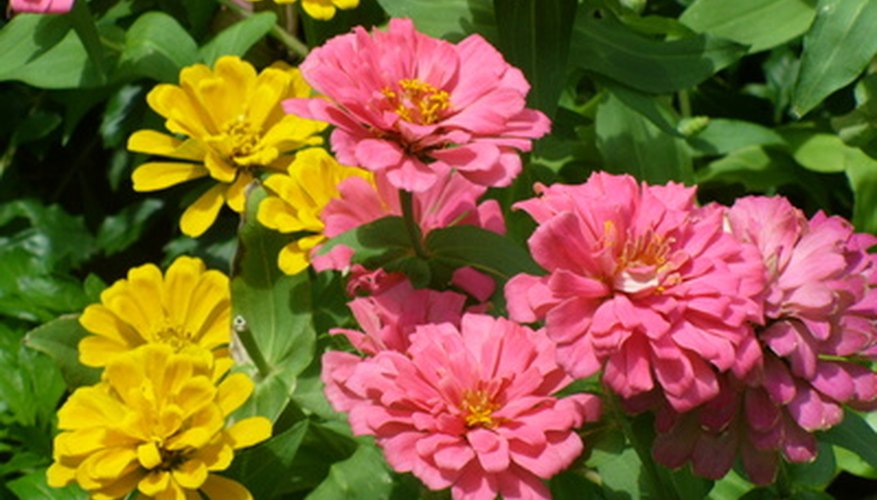 Color and splendor are not simply for spring and early summer. There are many fall flowers to plant for continual display of colors in the yard. USDA Plant Hardiness zones 3 through 11 enjoy a large selection of perennial and annual fall flowers. Gardeners do have to give up their joy of flowers with the onset of cooler days and evenings when they use fall flowers in their yards and indoor containers.
Daylily
The daylily (Hermerocallis) makes a colorful perennial flowerbed border. The faylily typically blooms for 20 to 40 days. They grow in zones 3 through 10, depending on the cultivar and variety. According to the University of Minnesota Extension, there are new cultivars of daylilies that bloom in the evening near sunset. Plants average 1 to 4 feet in height. They require wet, acidic soil and afternoon shade to produce the highest bloom yield. According to the University of Minnesota Extension, there are more than 35,000 varieties of daylilies available for gardeners. Plant daylily bulbs in the fall for spring and summer blooms.
Aster
Aster (Aster novae-angliae) is a colorful flower to add to your fall flower collection. It thrives in zones 4 through 9. Asters germinate and transplant well from indoor seeds. Asters grow in mounds with small purple, pink or red flowers. The Garden Helper recommends planting aster 18 inches apart because of the large mound size. The average height is 2 to 4 feet. A sunny location and moderately dry soil increases plant growth. Deadheading aster in July yields a higher fall bloom volume.
Zinnia
Zinnia (Zinnia elegans) is popular for the variety of colors available for fall cut flower arrangements. This fall flower grows well in zones 9 to 11. It requires full sun for a minimum of six hours a day with afternoon shading. According to the National Garden Bureau, zinnia plants can reach a height of 3 to 4 feet with a diameter of up to 2 feet. Plants thrive in outdoor flower gardens and indoors in planting containers.
Nasturtium
Nasturtium (Tropaeolum majus) is a colorful edible fall flower for zones 3 through 10. Growers harvest flowers to add to flowers, garnish plates and decorate baked foods. According to Absolute Astronomy, nasturtium is an ideal companion plant to deter unwanted insect population in the garden and flowerbeds. This hearty annual fall flower grows 9 to 12 inches in height with partial to full sun. Avoid over-fertilizing to prevent too much foliage and increase bloom count.