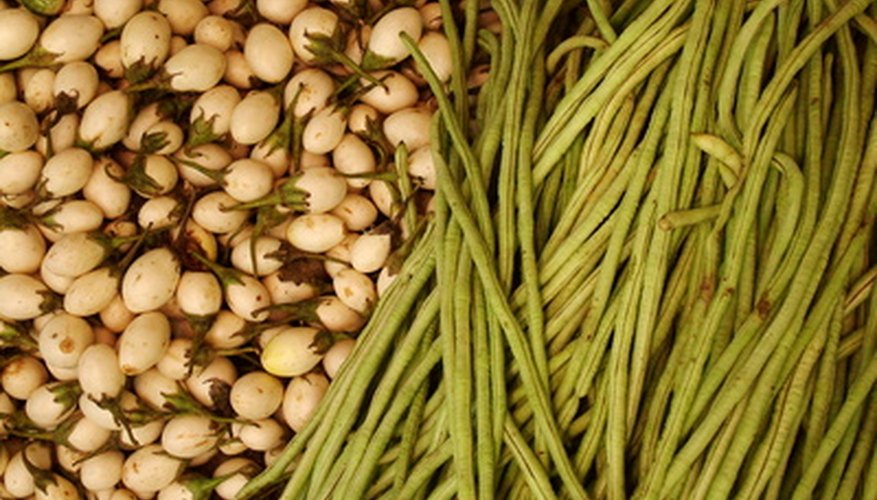 Black-eyed peas, also known as cowpeas or southern peas, are members of the legume family and not peas at all. High in protein and vitamins, black-eyed peas can be eaten fresh, canned or dried for long term storage. They love warm weather and are drought tolerant, making them ideal crops for hot southern summers. Most varieties are nitrogen-fixing, enriching the soil while producing a nutritious summer crop.
Choose a well-drained location with fertile soil.
Test the soil pH and fertility. Add organic compost or fertilizer as recommended by the fertility test. Adjust the soil pH to between 5.8 and 6.3, if needed, by adding lime or acid-producing materials.
Plant black-eyed peas when the soil has warmed up to at least 60 degrees F. Plant bush varieties in rows, about 2 to 4 inches apart and 1 to 1 1/2 inches deep. Plant vine-type varieties 6 to 12 inches apart. Space rows 24 inches apart.
Hand pull weeds or lightly hoe to control weeds until the plants are established.
Water during periods of drought only. Black-eyed peas have a deep tap root and usually need no irrigation.
Harvest black-eyed peas as soon as the pods are filled out and easily shelled. It is common to harvest a few tender immature pods, snap them and mix them into the shelled peas. At the end of the season, peas left on the plant will dry and provide seed for next year's crop.
Things You Will Need
Soil pH test

Fertilizer

Hoe, optional