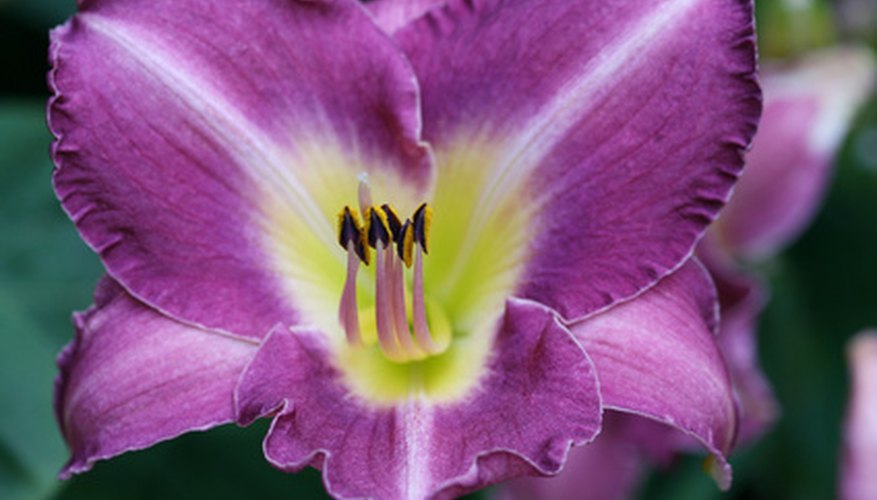 Gardeners working with clay soil can do one of two things. They can amend their clay with sand and organic material to increase its drainage and acidity, making it palatable to a wide range of plants. Or they can take the shorter route, and use their clay soil beds strictly for those plants that like clay. Fortunately, some of the most appealing perennials are quite at home in heavy, alkaline clay. Their tough root systems may even help loosen the clay so that it eventually becomes suitable for more plants.
Daylily/"Golden Tear Drops"
Even brand new gardeners will find daylilies (hermocallis) easy to grow in clay. Perennials usually standing between 18 and 30 inches high, daylilies are available in an enormous range of colors and forms. They grow in sun or part shade and moist or dry, acid or alkaline soils. The only shortcoming of daylilies is that each of the blossoms lasts just 24 hours. Planting them in massed groups provides and ongoing display of color during their flowering period, anywhere from May to August. Daylily's leaves, flowers and roots are all edible.
"Golden Tear Drops" is an early-blooming--May and June--daylily cultivar with striking, fragrant yellow-edged pink blooms that would pair well with late-blooming pink and yellow tulips. Standing 26 inches high, "Golden Tear Drops" has clumps of arching narrow green leaves that provide garden interest after it blooms, says the Missouri Botanical Garden.
Butterfly Weed
Butterfly weed (Asclepias tuberosa) is a deep-rooted member of the milkweed family. Its flat clusters of yellow-orange to orange flowers have nectar that attracts butterflies from June to September, making it an excellent choice for butterfly gardens. Monarch butterfly caterpillars feed on the plant's bright green, lance-shaped leaves.
Plant 1- to 3-foot butterfly weed where it is to remain. It needs a dry, sunny location as wet soil can cause crown rot; otherwise, this is a largely disease- and pest-free plant. The Missouri Botanical Garden recommends using it in sunny borders.
Cardinal Flower "Queen Victoria"
Cardinal flower (Lobelia cardinalis) "Queen Victoria," says the Wake County Master Gardener Newsletter, is a great choice for wet clay soil. Belonging to the bellflower family, this lobelia cultivar stands 3 to 4 feet high and up to 2 feet wide. The plant peaks from May to October when it produces 8-inch upright spikes of brilliant red blooms. Tube-shaped flowers are hummingbird and butterfly magnets. "Queen Victoria" tolerates both sun and shade, says the Missouri Botanical Garden, making it a good choice for wet, shady spots where other perennials struggle. Keep it wet and divide the clumps each spring. All parts of cardinal flower are toxic if ingested.