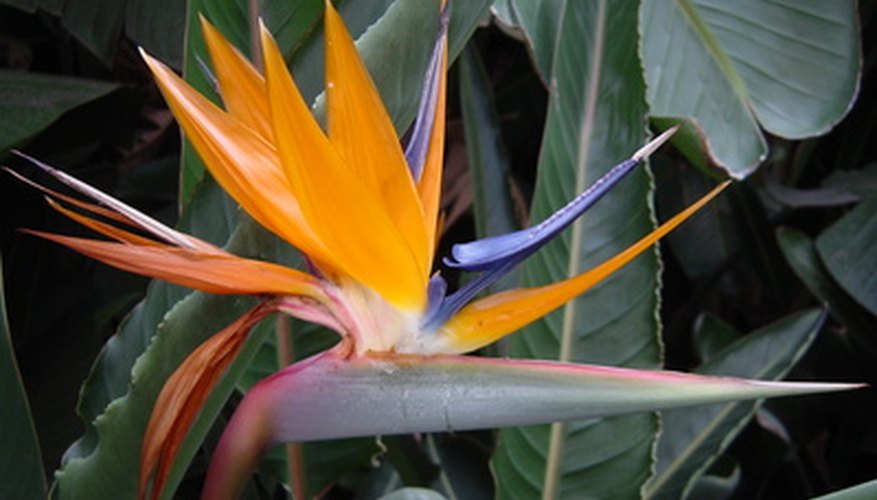 Bird of Paradise is a genus of flowering sub-tropical shrubs that bloom freely and thrive in warm, slightly dry soil conditions. There are several species and cultivars in the genus and each is handled somewhat differently when being pruned or trimmed, according to the University of Arizona. Loppers are ideal for smaller stems but a pruning saw will be helpful in severing older, heavier stems held tight against the plant crown.
Trim your Red Bird of Paradise in the late winter or early spring when any danger of frost has passed. Cut all the foliage and flower stalks down to 6 to 12 inches above the crown of the plant. A flush of rapid growth will occur in late spring to fill the plant out again. If happy with the plant's performance, just remove any damaged or overgrown stems or spent flower stalks down at the crown of the plant.
Trim your Desert Bird of Paradise in the late winter when dormant. Cut down all branches and upward facing growth to half its height to encourage new bushy or full growth. Prune away any damaged or unruly foliage around the perimeter in the early part of summer.
Prune your Cascalote Mexican Bird of Paradise shrubs lightly in March to remove foliage that is damaged by age or winter weather, any spent flower stalks or leaves that have been bent down towards the ground. Cut each stalk down at the crown of the plant, being careful not to cut into the stalk right next to it.
Groom you White Bird of Paradise in the early summer to remove straggly or damaged leaves and old flower stalks that have bloomed and faded. Thin the foliage to keep the plant looking attractive to your eye and encourage new growth. Place all cuts down to the crown of the plant.