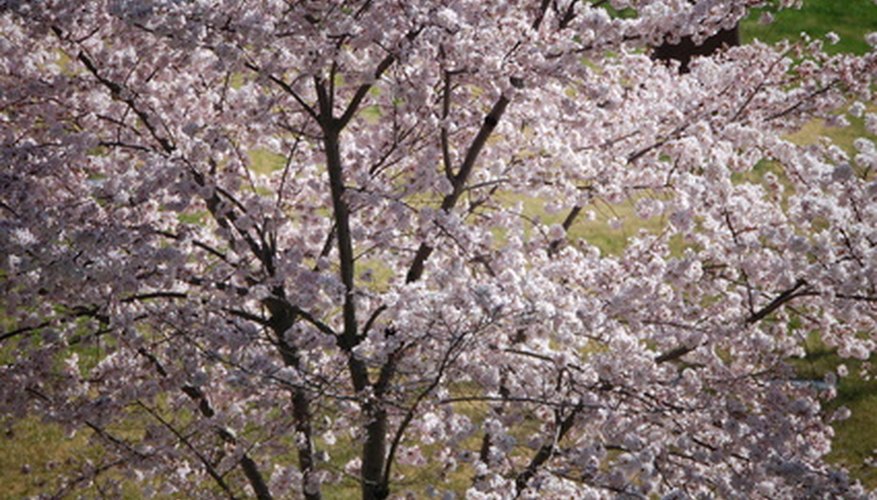 Home gardeners select ornamental trees to plant close to their houses to soften the hard surfaces and geometric lines of the house and to provide shade and screening for privacy. Every ornamental tree is not suitable to plant too close to the house, as some have very broad spreads aboveground and extensive rooting systems that may compromise the integrity of the house's foundation. Select low-growing trees to plant more than 5 feet away from the house that will not fall on the house in a storm or completely engulf the house's façade and conceal its curb appeal.
Bristlecone Pine
A member of the Pinaceae, or pine, family, bristlecone pine (Pinus aristata) is a native perennial tree that commonly grows in Colorado, New Mexico and Arizona. This slow-growing tree grows in a conical, single stem fashion. It grows in the spring and summer months, up to 15 feet in 20 years and 40 feet at mature height if not pruned. Plant this tree on the sunny side of the house at least 5 feet from the house since its spread is 10 to 15 feet. Bristlecone pine is drought tolerant and thrives in many types of soil. It makes an attractive addition to a low-maintenance landscape design.
Alternate-leaved Dogwood
Alternate-leaved dogwood, or Pagoda dogwood, (Cornus alternifolia) is a member of the Cornaceae, or dogwood, family. Several dogwood species plant well near a house and can be shaped and pruned to guide the shape of the tree. This dogwood grows in an erect form and the tree's multiple stems branch out to give it a full appearance. The alternateleaf dogwood grows in the spring and summer seasons, and its white flowers are in bloom in the middle of spring. This tree will fair well on a shaded side of the house and in moist, well-drained soils. Plant this tree at least 8 feet from the house since it has a 15 to 30 foot spread. Before its leaves fall in the fall season, they turn red to add a little drama to your landscape scenery.
Red Buckeye
Red Buckeye, or scarlet buckeye (Aesculus pavia) belongs to the Hippocastanaceae (horse-chestnut or buckeye) family. This native deciduous tree grows in southeastern region of North America, and it also grows as a non-native species in Ontario, Canada. It thrives in partial shade to sunny locations and in well-drained, moist soils. This tree grows in the spring and summer seasons, between 10 and 20 feet tall in an erect, single stem form and can be trained to grow as a shrub. Its attractive red flowers bloom in late spring. Plant your red buckeye tree between 5 and 10 feet from the house to accommodate its 10-to-20-foot spread.