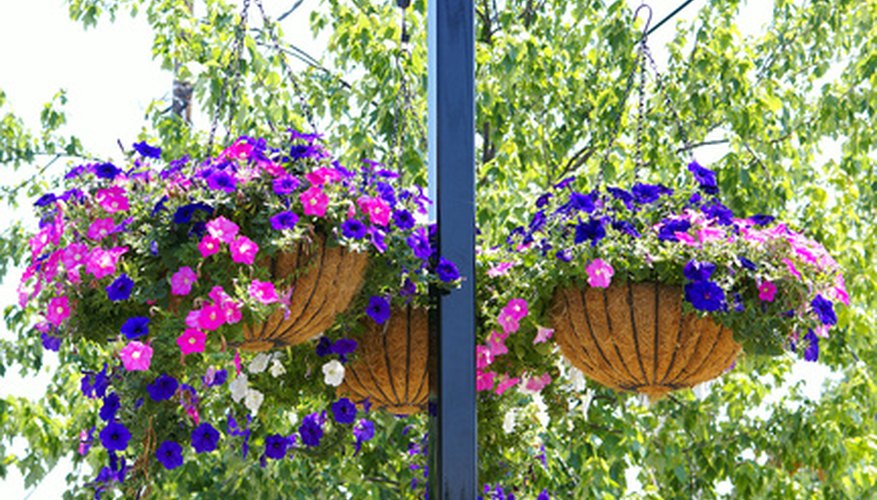 Whether strung from a porch ceiling, tree, post or garden hook, outdoor hanging flowers add a splash of bright color and beauty to your landscape. While many flowers can be grown in hanging pots or baskets, not all look their best when viewed from below. The most practical hanging flowers are those that have a vining or draping habit, rather than straight upright growth. Flowers that tolerate heat and sun also generally do better when hanging, but with special care, shade-loving flowers can also thrive.
Calibrachoa
Calibrachoa, also called Million Bells or Lirica Showers, are a fairly new annual that are perfectly suited to hanging. The flowers look very similar to petunias, but are slightly smaller, and hang on long trailing stems. Blooms appear from late spring all the way through autumn, and there is no need to pinch the flowers off to encourage more blooms. Million Bells comes in many colors, including yellow, orange, pink, blue, purple and red. They are tolerant of heat, and keep a full, bushy shape better than petunias.
Scaevola
An annual in most zones, Scaevola, or Fanflower, is easy to grow, even for beginners or those who don't have time for constant flower maintenance. Like Calibrachoa, spent flowers on Scaevola do not need to be deadheaded, adding to the ease of care. Blooms begin to appear in mid-summer and continue the remainder of the season until the first frost. It will also tolerate a variety of conditions, from partial shade to full sun and hot temperatures.
Trailing Verbena
Popular for its hardiness, cascading vines and long bloom time, trailing verbena lends itself well to hanging pots. Trailing verbena will tolerate high summer temperatures and some neglect and continue to bloom profusely all the while. Flowers first appear in mid-spring and don't stop until the first hard freeze of fall. In warmer climates, trailing verbena will sometimes produce blooms year-round. The most common colors are red, pink and purple, with the fiery red shade being the most popular.
Fuchsia
Although a fuchsia plant requires more work than many other hanging flowers, it remains popular because of its delicate, unique flowers and elegant shape. Because of its draping habit, fuchsia is excellent in hanging baskets and pots. It needs to be kept in the shade, and watered regularly, but the soil should not be oversaturated. Regular fertilizing is critical to keep a fuchsia healthy and blooming, as is protection from any frost.