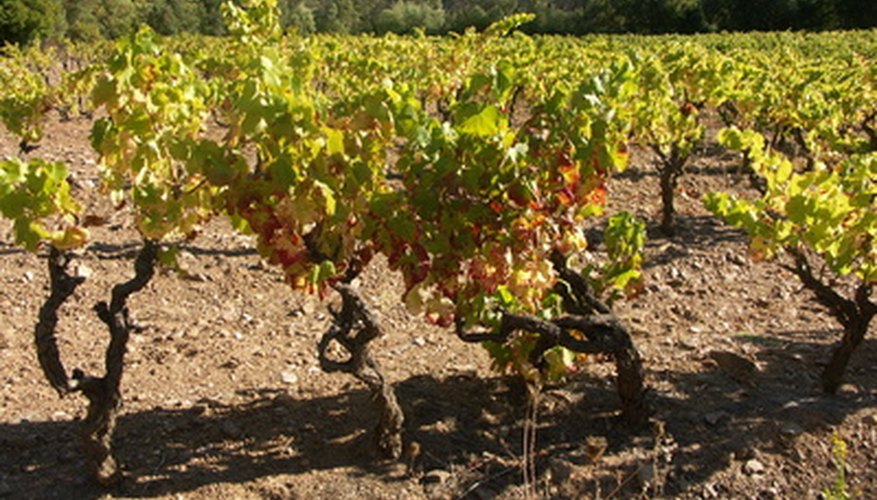 Grapes are perennial vines which are deciduous. That means they lose their leaves for a period of dormancy and grow again the next growing season. Grapes will live through harsh winters. The challenge is to choose a variety that is hardy in your zone and will ripen by the time the first fall frost hits. Milder climates with temperate winters don't have to do much to protect their grape plants.
Mild Climate
Prune the vines back to four to six branches off the main trunk after the leaves have fallen from the vines. That leaves a total of eight to 12 branches. Prune the branches to 4 feet long.
Clean up debris and fallen leaves. This prevents the grapevine from being infected with any lingering disease or fungus.
Water the grape vines every month if there hasn't been any rain.
Harsh Climate
Remove the vines from the support trellis. Don't bother unraveling the twining tendrils just cut them or snap them off. Do this before the first killing frost.
Lay as much of the vine on the ground as possible. If necessary lay wood posts on top of the vines to push them down. You want them to make contact with the ground which won't be as cold as the air temperatures during the winter.
Cover the vines with a heavy layer of straw. If it snows, that's fine the snow will help insulate the vines from the cold even more.
Remove the straw in early spring after the worst of the cold weather is over but before the vines start budding.