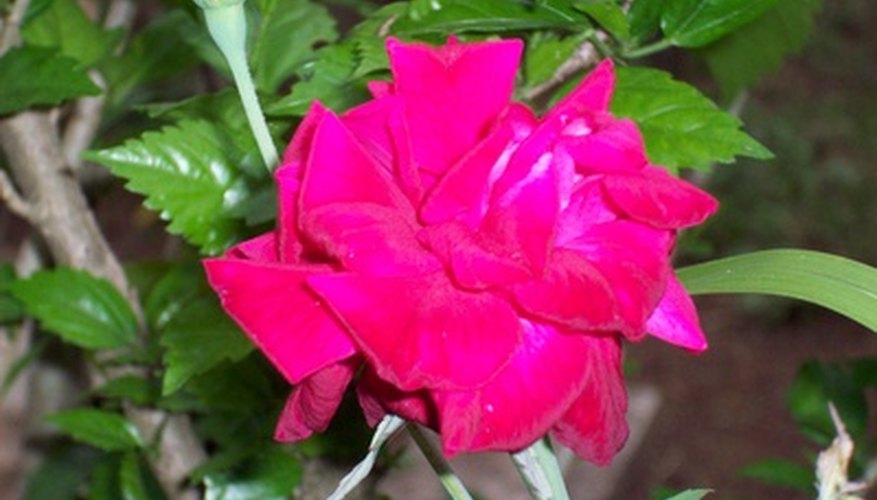 Thousands of types of pink flowers exist, but narrowing them down to those that are truly hot pink can be a daunting task. Fortunately, most flowers that come in pale pink also have a hot pink counterpart. Even rare and exotic flowers have neon pink varieties. Whether you want to grow them in your garden or use them as cut flowers in a vase or arrangement, hot pink flowers massed together or with white flowers as an accent offer up a bright spot of cheery color.
Starfighter Oriental Lily
The Starfighter oriental lily is similar in appearance to a day lily, but is much taller and is hot pink. The edges of the petals are outlined in white, giving it a striking appearance. Starfighter blooms mid-summer, reaches up to 3 feet tall, and requires full sun.
Dahlia
Dahlias come in nearly every color imaginable, and the hot pink color is truly hot pink. They are easy to grow, and grow to different heights, depending on the variety. Dwarf Dahlias top out at about 12 inches, while giant Dahlias can reach 12 feet tall.
Tulips
Tulips come in a surprising array of colors, and while pastel spring colors most often come to mind, they also are found in brilliant colors, including hot pink. Most varieties of tulips bloom in mid-spring. The bulbs are planted in the fall, and leaves emerge in late winter or early spring.
Carnation
Popular as a cut flower, carnations come in both natural and enhanced shades of hot pink. Carnations are easy to grow from seed and require little care. They bloom all summer long, usually ending only after the first frost.
Lobelia
Lobelia, also known as Riviera rose, comes in a shade of shocking hot pink. Butterflies love lobelia, and it grows in a variety of conditions, from light shade to full sun. An annual, it will bloom all summer long, especially if deadheaded regularly.
Gerbera Daisy
Like dahlias, gerbera daisies come in a range of colors, and the hot pink is nearly neon. Hot pink gerberas also come in bi-color, and with different colored centers, such as green and black. Gerberas like full sun and are easy to care for once they are established. They make great container plants and last a long time in vases when cut.
Vanda Orchids
Known for their brilliant color, the Fuchsia Magic variety has a striking two-toned flower with hot pink accented by a softer, but still brilliant shade of pink. The blooms can grow up to 5 inches across. Although beautiful, Vanda orchids require special care to bloom and thrive. Temperatures and humidity must be controlled and constant. They also require plenty of light.