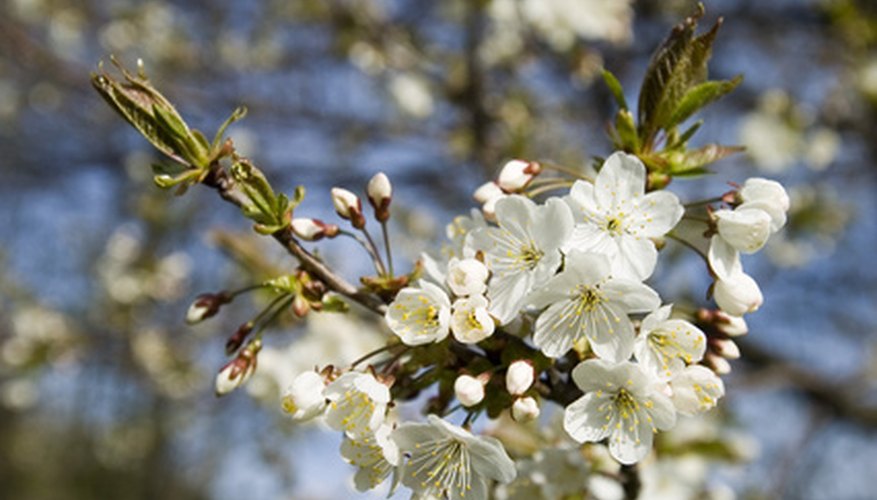 Encompassing expansive mountain ranges, forests and volcanoes, Japan is home to a diverse landscape that contains a number of unique plant species. Many of Japan's plants are suited to the country's mostly temperate climate, making them popular garden plants for gardeners in temperate regions all over the world.
Japanese Honeysuckle
Japanese honeysuckle (Lonicera japonica) is a trailing vine that can quickly reach lengths of up to 30 feet. The plant produces attractive white flowers that are highly fragrant. Extremely hardy, the plant will grow in a range of conditions, from full sun, partial shade to full shade (although full shade plants won't produce nearly as many flowers as those grown in full sun). The plant can adapt to numerous soil types, and both dry soils and soggy soils will work. The plant is considered invasive in some states.
Japanese Anemone
Japanese anemone (Anemone × hybrida 'Alice') is a low-growing plant between 1 and 3 feet tall that produces rose-like flowers that are white with a pinkish tinge and a large yellow center. Japanese anemone is a hardy plant that can quickly fill up an empty spot in a garden. Ideally, Japanese anemone likes a light partial shade, although full sun will work if the plant is watered often. The plant prefers humus-rich soil that is moist, but not soggy or wet.
Japanese Privet
Native to Japan and East Asia, Japanese privet (Ligustrum japonicum) is a sturdy evergreen plant that can be cultivated as a shrub or a tree. Dwarf varieties of the plant are frequently used to make dense hedges. The plant has deep green foliage and small white flowers which attract birds. Easy to grow, Japanese privet can handle many different soil types and both full sun and partial shade. The plant is so hardy that it can become invasive, so gardeners who grow Japanese privet should remove fruits and flowers to keep the plant from spreading too much.