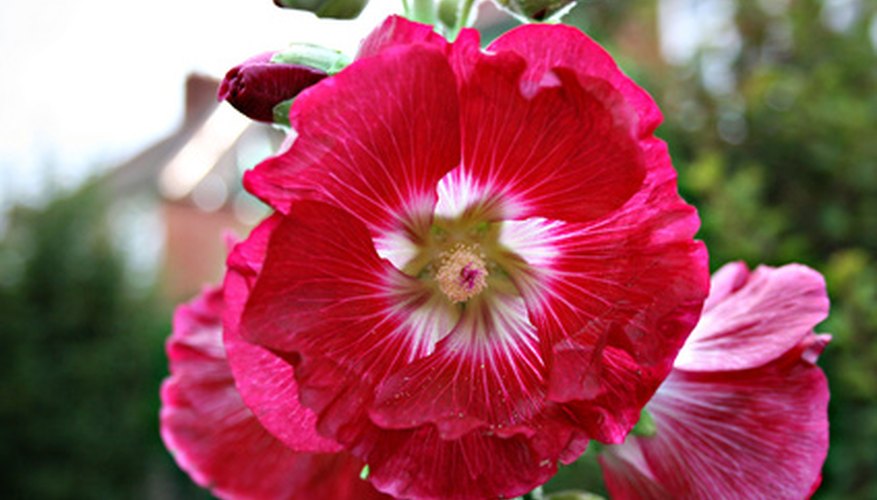 Hollyhocks are flowering plants known scientifically as Alcea rosea. They are part of the Alcea genus in the Malvaceae family and often referred to as Althaea. Hollyhocks are either short-lived perennial plants or herbaceous biennial plants and composed of approximately 60 species. Hollyhocks originate in central and southwestern Asia.
Appearance
Hollyhocks appear in a variety of colors, including red, yellow, pink, purple and white. The flowers are shaped similarly to saucers and are 4 to 5 inches in diameter. The flower stalks can grow up to 8 feet tall. Between seven and 12 flowers usually appear on hollyhock stalks. The leaves appear on the stalk of the hollyhock. Hollyhock leaves are round, broad and have palmate lobes. In general, there are five petals and five sepals on hollyhocks. There are also between six and nine bracts. The middle part of the flower has a columnar structure composed of the flowers reproductive organs (such as the stigmas and the stamen).
Uses
Hollyhocks are common ornamental plants in home gardens, flower gardens and cotton gardens. Hollyhocks are also commonly placed behind borders, against fences and on hummingbird beds. Though they are decorative flowers, they are not known for being fragrant and are generally without a scent.
Cultivation
When cultivating hollyhocks, provide well-drained soil that is rich. They prefer full sun. Hollyhocks tolerate a small amount of shade. However, they are intolerant of damp winter soil. You usually don't need to stake them, except in areas of high rain or winds.
Companion Flowers
Hollyhocks thrive alongside other cottage garden flowers, including bellflowers (also known as Campanula), roses, Columbine (also known as Aguilegia) and thyme.
Problems
As with the majority of plants, hollyhocks could face diseases and pests. Some common problems for hollyhocks include leaf spot, rust, cut worms and aphids. Eliminate rust and disease through leaf removal to get rid of overwintered spores or with lime sulfur spray to keep spread down. Also, prevent problems for hollyhocks by feeding the plant an abundance of compost and not allowing it to get overly dry during the summer months. In the beginning of spring, start fungicide treatments when the initial leaves are expanding.
Food Plants
Various Lepidoptera species' larvae feed on certain species of hollyhock plants. These Lepidoptera species include both the Painted Lady butterfly and the Bucculatrix quadrigemina.
Common Species
Some common Hollyhock species for household gardens are the Alcea pallida, the Alcea biennis, the Alcea sulphurea, the Alcea rugosta, the Alcea heldreichii, the Alcea lavateriflora, the Alcea ficolia, the Alcea striata and the Alcea setosa.