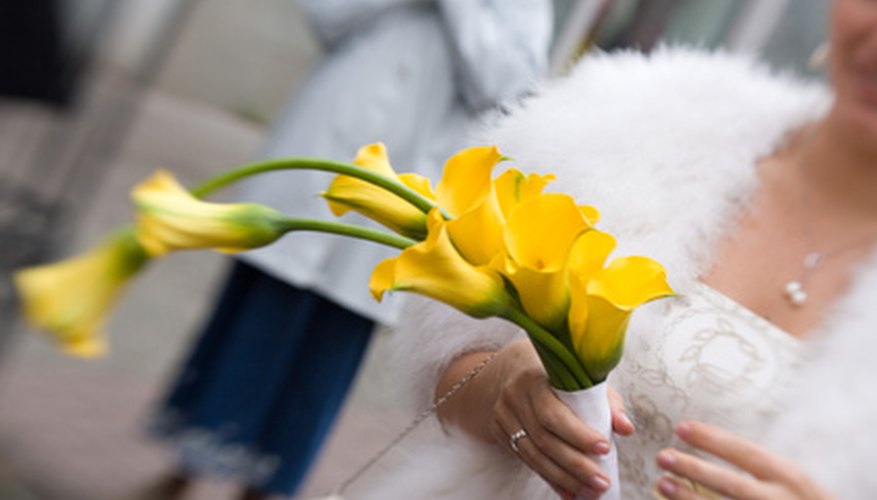 Creating a wedding budget can be a daunting task, especially when you start to consider the bouquets, corsages, boutonnieres, ceremony flowers, and reception flower arrangements. Luckily, flowers are one of the categories where you can save money. It may be your first inclination to head to the florist when planning your wedding flower arrangements, but first, consider alternatives. It will involve more time and effort on your part, but it will save you money, and you can still decorate your special day with beautiful blooms.
Flowers in Season
Flowers can be cultivated in greenhouses when not naturally in season, but this often results in weaker blooms and higher prices. The least expensive flowers are likely those that are in season during the time of your wedding, or those that are grown year-round such as baby's breath, bachelor button, calla lily, carnation, delphinium, freesia, gardenia, ivy, lily, orchid, rose, stephanotis and sweet pea. In the spring, apple and cherry blossoms are in bloom, as are daffodil, dogwood, foxglove, hyacinth, iris, larkspur, lilac, lily of the valley, peony, ranunculus, snapdragon, statice, tulip and violet. In the summer, aster, clematis, cosmo, dahlia, daisy, geranium, gerbera daisy, gladiolus, hydrangea, larkspur, sunflower and zinnia are in season. In the fall, flowers such as asters, chrysanthemums (mums), cosmos, or marigolds are inexpensive and easy to acquire without a florist. Poinsettias are an affordable winter flower option.
Local Flowers
Shipping costs can mount quickly when ordering flowers for wedding arrangements, especially if ordering an exotic flower that needs to be shipped from across the world. Shopping local ensures that your flowers will arrive fresher at your wedding and will make less of a dent in your budget. Try checking with a local nursery to see whether it allows you to purchase flowers in bulk for arrangements you can do yourself. If you aren't keen on doing the arrangements yourself, ask a local floral design school or craft class if it will do the arrangements if you pay for the materials.
Alternative Flowers
According to Amy J. Tol, author of "The Bride's Handbook," using silk flowers for all or some of your decorations is a cost-saving option. They will be approximately one-third of the cost of real flowers. You can also make paper flowers yourself, or have them made by paper flower specialists. Having a complete or partial paper flower wedding can cut costs in that the flowers can be used as keepsakes and gifts. Instead of paying for arranged bridesmaid bouquets from a florist, have each of your bridesmaids carry just a single paper calla lily. The simplicity not only lends elegance, but the bridesmaids can keep their lilies as gifts to help remember your special day.