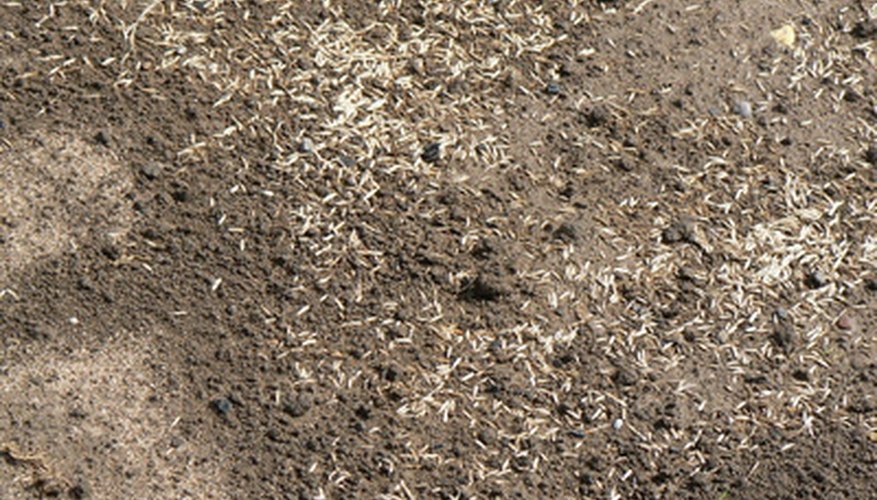 Growing grass from seeds can be a challenge. You worry about how much of it will germinate. You obsess over the weather. You fixate on enemies, such as the neighborhood kids and the family pets trampling yet-to-sprout seeds. When it comes to winged marauders swooping in for a grass seed meal, you may be at a loss as to how to engage in combat. There are a few very simple things that you can do to beat them to the punch and rescue your precious lawn from the food chain.
Build a "fence" around the seeded area. Set a 2- to 3-foot-tall stake every 3 feet around the perimeter of the site, and tie a 2-foot-long piece of red flash tape to the top of each. Birds won't like the active movements of the tapes when they're set into motion by even the gentlest breezes.
Place a few plastic snakes and owls on your newly seeded lawn. Many birds are fooled by this ploy. Move them around to different spots as often as you can. Otherwise, the birds will wise up.
Position a scarecrow or two in the vulnerable area. Move them around as often as possible.
Chain your dog outside to earn her keep as often as you can. Keep the tether short enough that she can't quite reach the seeded area. Even the gentlest canine will chase birds. If you leave the pet outside for an extended length of time, provide shade and water. If you don't have a dog, consider adopting a shelter pet.
Spread 1/8 to 1/4 inch of well-rotted manure or compost over your grass seed. The thinner you apply this, the better. Cover the seeds just enough to hide them from seed-eating birds, which are visual hunters. The bonus is that your germinating grass seeds will benefit greatly from the addition of nutritious compost.
Mulch the seeded area with a thin layer of straw if you don't have compost. A mere 1/4 inch thick will do the trick.