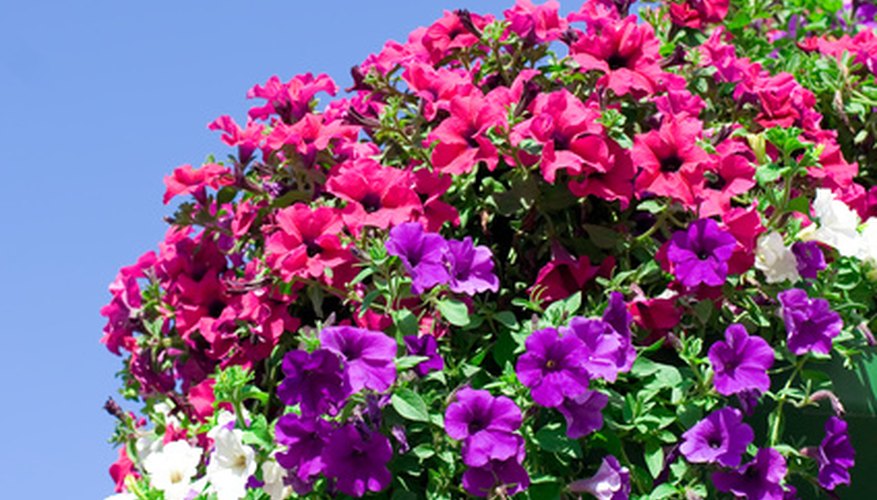 As winter melts away and spring emerges, so do many spring-blooming flowers. Spring flowers grow in a wide range of bright colors, sizes, shapes and textures, each with its own distinct growing environment. Some spring bloomers require full sun while others can withstand a dappling of shade. Tucked along a front yard bed or border, spring flowers create a showy garden display.
Candytuft Border
Candytuft, a striking, clustering annual flower that grows in spring, is an ideal flower variety to grow as a front yard border. Low-growing, candytuft grows 12 to 18 inches tall and 6 to 8 inches wide. The 4-petaled, flattened flowers on candytuft are often fragrant and come in shades of pink, white, lilac and red for a bright burst of color to the garden.The glossy deep green leaves of candytuft contrast with the delicate flowers and help to create the billowing, clumping effect that candytuft is known for. Candytuft requires full sun and well-drained, moist soil that is neutral to alkaline.
Plant candytuft along a front yard perennial border or flanking a front walkway as the walkway border. Mix different colors to create a rainbow of color or stick with one bloom color to create a classic solid border color design. The low-growing, clumping form of candytuft helps to define the border with its bright and fluffy blooms.
Foxglove Backdrop
Foxglove, a late spring-blooming perennial, is the ideal flower to grow as the backdrop of a perennial flowerbed. Growing up to 60 inches tall, foxglove has an upright stalk that holds the masses of bell-shaped flower blooms. A butterfly attractant, foxglove flowers have bright green-toothed leaves that grow along the tall stalk. The flowers on foxglove are purple to white and if pruned down after the first round of blooms, often re-bloom during the fall. Low-maintenance, foxglove flowers are self-seeders and will create their vertical, bright design throughout the landscape year after year. Foxglove prefers full sun to part shade and moist, nutrient-laden moisture to thrive.
Grow the foxglove perennial flower along the back of a garden wall or perennial garden for height. Overtime, and year after year, the foxglove will grow taller and stronger for a magnificent garden display. When planted side-by-side, the foxglove will create a mass of bright flowers that define the back of the bed with texture and their unusual blooms.
Potted Petunias
Petunias are annual flowers with a rapid growth rate and bright flower blooms. Ideally tucked into containers to brighten up the front yard, petunia blooms emerge in late spring to light up the garden through the summer. Growing 1 to 3 feet tall, petunia flowers have a draping, cascading form that is stunning billowing over a container. The masses of prolific blooms on the petunia provide non-stop color to the front yard. Petunia flowers require full sun and a moderate amount of water to thrive. To promote flowering, pinch back the spent blooms as soon as they are noticeable.
Tuck the petunia-filled containers around the front yard for an unexpected bit of color. Available in a wide range of colors and materials, including terra cotta, metal and ceramic, containers are just another way to bring in height and texture to the front yard space. With the ability to change out the flowers within, you can have a fresh, updated look in a short period of time.