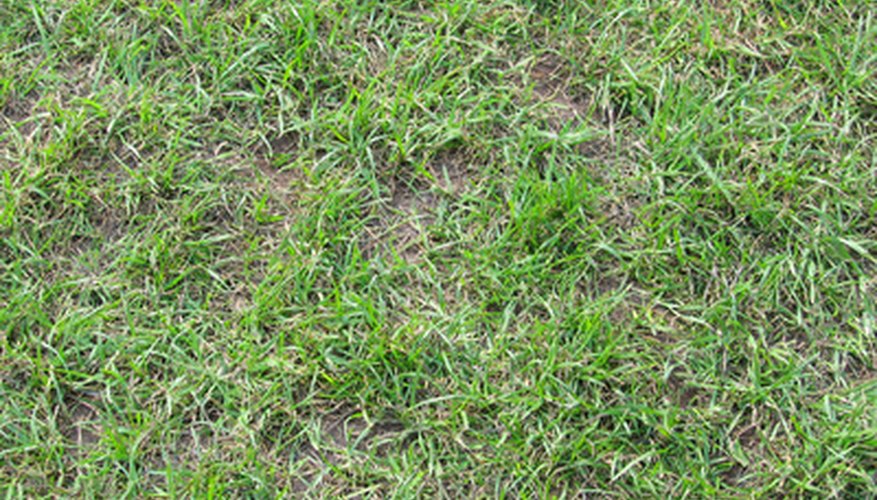 Turfgrasses include grass and grass-like plants that are used for ground cover. Turfgrass is often seen on lawns, golf courses, football fields and in other locations where grass acts as a ground cover. Some turfgrass is better suited to one type of growing condition over another. Understanding the differences between turfgrasses can help you make a decision as to which is best grass for your needs.
Bermuda Grass
A deep-rooted turfgrass, Bermuda grass withstands sandy soil and periods of drought. Bermuda grass is dark green and does not grow more than two to three inches tall. The flowers which emerge come up on tiny stalks that look like birds' feet. Bermuda grass is most prevalent in the warm Southern states, and in California, where hot summers can kill most other grasses.
Fine Fescue
Fescue grasses come in many varieties, but only fine fescues are used for turfgrass. Fescues are cool-season grasses that usually grow in bunches. Since fescues grow in clusters, they must be planted and maintained properly to keep a smooth and level lawn. Red fescue grows smoothly because it uses short, slim rhizomes--underground reaching rootstocks--to propagate the surrounding area. Fescues tolerate shade well, so they are often mixed in with other grass types to supplement growth in shady areas.
St. Augustine Grass
Lawn-maintenance enthusiasts love St. Augustine grass. Though it is native to coastal reasons, many gardeners have adopted growing St. Augustine grass for home lawns for the lush, luxurious look this grass has when it is painstakingly maintained. St. Augustine grass does not take drought well, and warm, humid conditions put St. Augustine at risk of fungal diseases.
Carpetgrass
Carpetgrass predominantly grows in the Gulf Coast states of Texas, Louisiana, Alabama, Arkansas and Florida, though it will grow as far north as Virginia, according to Texas A&M University Extension. Carpetgrass can live in sandy soil that is too infertile for many other grasses. It exhibits less drought tolerance than Bermuda grass, but it tolerates wet weather and shade better. Carpetgrass grows seed stalks about every five days and requires frequent mowing to keep a tidy lawn.
Kentucky Bluegrass
Kentucky bluegrass is a cool-season grass that grows best in the fall, winter and spring months, and slows in growth when the weather warms up for the summer. This type of grass grows in most of the United States, but does not do well in the summer in California and Nevada or other states with consistently hot summer temperatures, according to the University of California Integrated Pest Management Program.