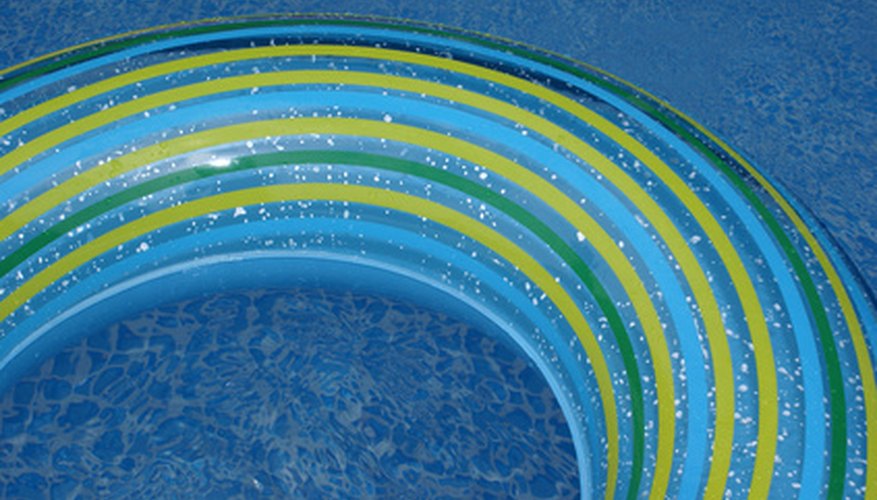 A swimming-belt in a swimming-pool. image by Saskia Massink from Fotolia.com
An above-ground pool is fun in the summer but it does have a few disadvantages. It doesn't look like an integral part of the landscape like an in-ground pool. It also has a tendency to look like an afterthought, especially in a back yard that's flat. Landscaping can integrate the pool and make it attractive as well as fun.
Raised Beds
Construct raised beds around three sides of the pool. The fourth side provides access for in and out of the pool. Build sturdy steps instead of the wobbly ladder so often used for above-ground pools. Leave enough room between the beds and the edge of the pool so bathers aren't poked and the foliage doesn't fall into the water. Fill the raised beds with flowers and bushes that don't shed too much and are soft. Roses, for example, aren't a good idea because they have thorns.
Stepping Stones and Groundcover
Most above-ground pools have a 3-foot border of gravel around them laid over plastic to prevent weeds and grass from growing. Stepping stones, pavers or flagstones add a more finished look to the pool area. Plant groundcover between the pavers to integrate that area with the lawn in the rest of the yard. Continue the stones as a path to the patio or back entryway. Edge around the last row of pavers with low-growing bushes such as privet.
Container Planting
Integrate the plants you use with the rest of the yard's landscaping. If you have Shasta daisies, butterfly bush and ornamental grasses in the borders of your yard, use those same plants in at least some of the landscaping around the pool. Ornamental grasses are a good choice. Pampas grass, which grows to 10 feet tall, provides privacy if used to block neighbor's views. Grasses such as purple moor grass cover a lot of the pool's vinyl siding with its wide growing habit, but it doesn't get taller than 36 inches. Bowles golden sedge grass grows to 20 inches high and wide. It provides contrast with its golden leaves. Keep the grasses in containers since their roots can pierce the liner of the pool.