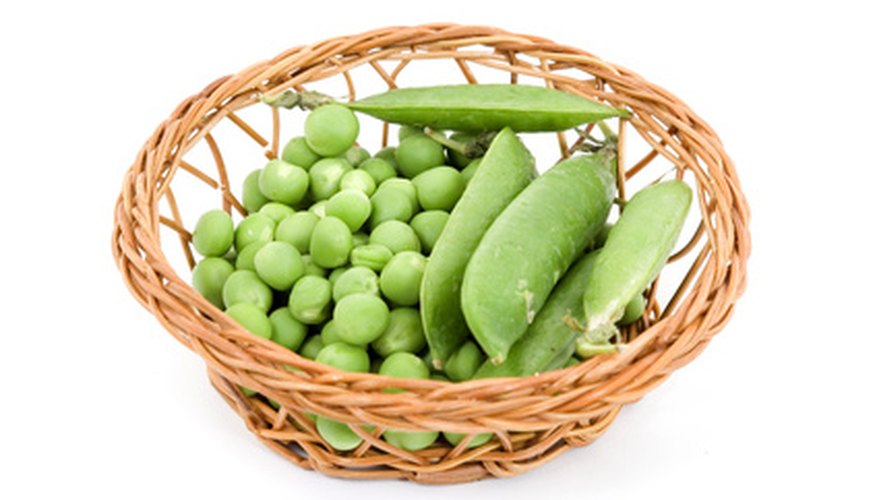 Sugar snap peas and beans are different plants with similar growth patterns. Both sugar snap peas and beans grow as vines or bushes. Support vine varieties on a fence or trellis. Bush varieties of both sugar snap peas and beans mature quickly and are easy to harvest, but are generally less productive than vines. Sugar snap peas are a cold hardy crop, best grown in cool weather, while beans are a warm weather crop, planted after the last frost day. The cultivation practices of sugar snap peas and beans are the same.
Plant sugar snap peas and beans in a spot with good drainage and partial shade to full sun. Plant in raised beds if good drainage is not available.
Work fertilizer into the soil before planting.
Plant peas early in the spring, as soon as the soil is workable. Beans prefer warmer weather, so plant after the last frost date. Sow seeds every week or two through mid-spring. Successive plantings yield a longer harvest. A second planting can be made in the fall.
Plant beans and peas 1/2 to 1 inch deep. Space peas 2 inches apart, bush beans 3 to 4 inches apart and pole beans 6 to 10 inches apart. Sow vine varieties in rows on both sides of a trellis or support.
Pull weeds or hoe lightly to control weeds, and continue to do this during the first six weeks.
Provide approximately 1 inch of water per week. Water sugar snap peas and beans early in the day to allow the foliage to dry out quickly.
Harvest peas and beans as they mature. Sugar snap peas are ready when the seeds are plump and fill out the pods. Beans and sugar snap peas left on the plant past their prime become starchy and lose their sweetness.