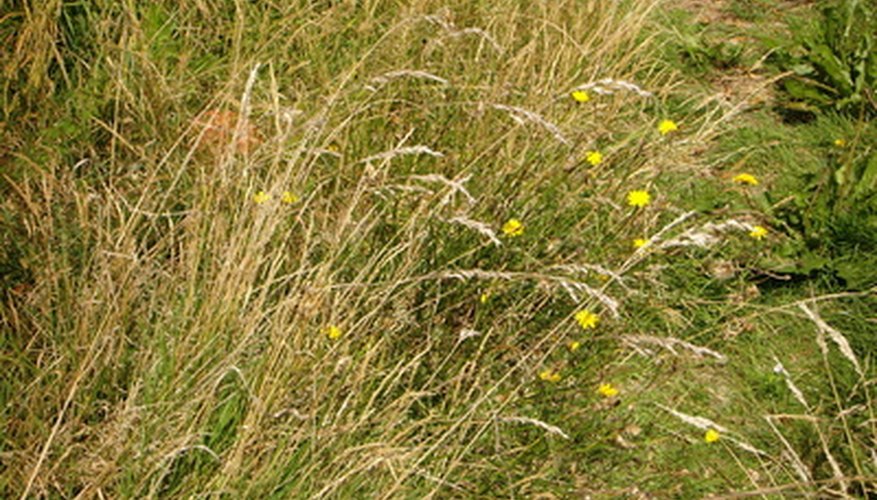 Grassy weeds can be a major problem in the lawn. Identification of grassy weeds, as opposed to the grass you wish to have in your lawn, can be difficult. Looking for grass blades that are a different shape or color than the rest of your lawn helps narrow down what are weeds and what is turf. Once identified, application of pre-emergence and post-emergence herbicides, as well as proper cultivation practices, will control and eliminate grassy weeds from your garden.
Mow your grass so that the blades are between 2 and 3 inches long. This helps increase grass coverage, as well as the effectiveness of any herbicide sprays.
Rake the lawn with a dethatching rake to break up the thin layer of dead grass that lays on the yard before applying herbicides. This increases the herbicide's ability to penetrate the soil.
Apply your pre-emergence herbicide using your sprayer directly into the soil. Spray on a day where the wind is low and there is little chance of rain. Pre-emergence herbicides prevent the roots of the weed from growing properly and are usually selective, affecting only weeds in the lawn.
Spray any full-grown weeds in the lawn using a post-emergence herbicide in your herbicide sprayer. Apply this herbicide directly to the plant, making sure not to allow herbicide drift because many post-emergence herbicides are nonselective and may affect the grass of your lawn.