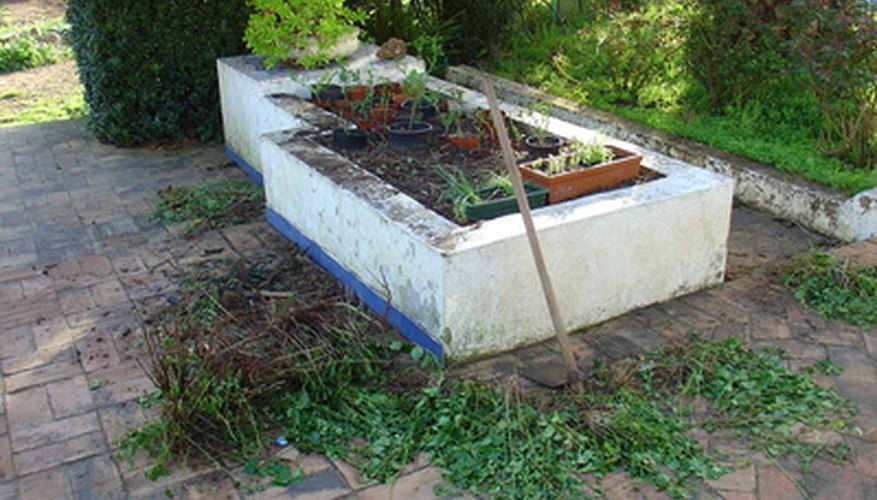 Raised flower beds are gaining in popularity. Not only are they ideal for small areas, with a little imagination the raised flower bed concept can be put into use for special designs, ease of maintenance and even portability. Any bed that is more than 4 inches higher than ground level is considered a raised bed. The area can be enclosed or not. It is important that the entire width of the raised bed is within arm's reach, eliminating the need to plant in rows.
Tabletop Garden Ideas
Table top flower gardens are wonderful options for the gardener who has a hard time working on the ground. Build the tabletop garden no wider than 48 inches, depending on the reach of the gardener. The planting bed should allow for about a foot of soil and an additional 2 inches of mulch, as most flowering plants need from 6 to 12 inches of soil. Drill a hole, about ½ inch diameter, every 6 inches along the table for drainage, and keep the soil from falling through the holes with a landscaping fabric lining. Box in the table with 2 x 12 inch or 1 x 10 inch pressure treated lumber. The flower bed table should be place in an area that gets at least 6 hours of direct sun.
Turn a Raised Flower Bed into a Cold Frame
A raised flower bed that is 2 or more feet off the ground can easily be converted into a cold frame. Cover it with a clear plastic cover. The cover can be supported with poles or even trellises. Because the raised bed warms up in the spring a lot faster than the ground does, flower seeds can be started right in the beds instead of inside, eliminating the need for transplanting.
Raised Bed Construction Ideas
When building raised flower beds, keep them narrow enough to reach across. If there is a wide enough path around the bed, the width can double the reach. The raised bed can be as long as space allows, as long as it matches the watering system.
Raised flower bed frames, if needed, can be made of blocks, bricks or pressure treated lumber. If cement blocks are used, it's possible that the cement can change the pH of the soil, raising it over time. Wood treated with chemicals that can leach out should never be used—as the chemicals, like creosote or pentachlorophenol, will contaminate the soil and harm the valuable flowers.