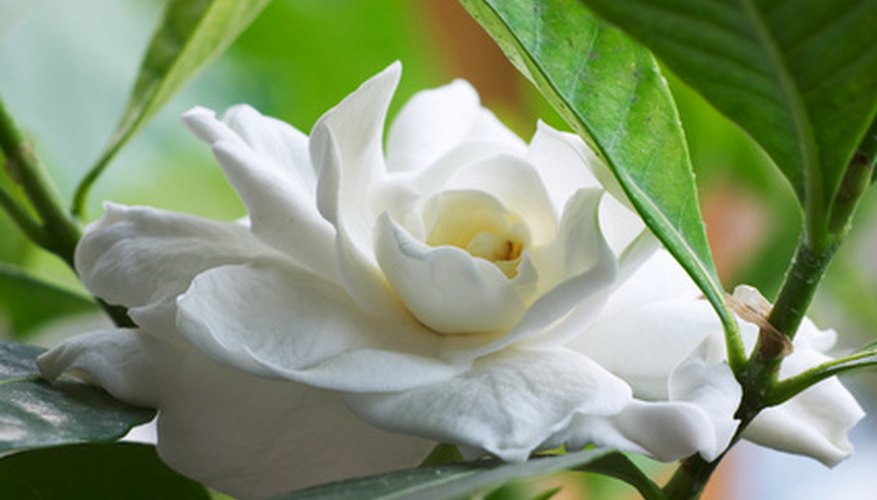 For gardeners who live in warm, humid climates, the gardenia is a landscape must-have, valued for its pleasant, rounded shape; delicate, waxy blossoms and delightfully sweet scent. Gardenias aren't difficult to grow as long as you provide the shrubs with adequate sunlight, water and fertilizer. If you live in a cooler climate with freezing winters, you can enjoy the gardenia's beauty and fragrance indoors.
Growing Gardenias Outdoors
Plant the gardenia in well-drained soil, where the shrub is exposed to morning sunlight, but is protected from the rays of the hot afternoon sun. If you live in a cooler climate, gardenias should be planted in full sunlight. Allow plenty of space for air circulation, as gardenias can grow to 8 feet tall at maturity, and nearly as wide.
Water the gardenia immediately after planting. Keep the soil evenly moist at all times, but don't water excessively. Soggy soil can injure the roots and eventually kill the plant.
Spread 2 to 3 inches of mulch around the plant. Mulch will help keep the soil moisture even, and will deter weeds.
Fertilize gardenia in spring, mid-summer and after pruning in early autumn, using a granular fertilizer formulated for acid-loving shrubs. Apply the fertilizer carefully according to the directions, and always water after fertilizing. Be careful that the granular fertilizer doesn't come in contact with the leaves, and if it does, rinse it off immediately.
Prune the gardenia after flowering, but before October, as pruning too late in the season will stunt next year's growth. Remove spindly, crooked or dead branches, and branches that detract from the desired shape and size of the shrub.
Growing Gardenias Indoors
Plant gardenia in a large sturdy container with a drainage hole in the bottom. The container should be filled with commercial potting soil.
Place the gardenia in a warm room where the temperature will be between 70 and 75 degrees Fahrenheit during the day, and about 10 degrees cooler at night. Don't place the shrub near air conditioners, heating vent, drafty doors or windows.
Keep the soil evenly moist and don't allow to dry out, or to become soggy. Increase the humidity around the gardenia by placing the container on a tray with a layer of clean gravel or pebbles. Add water to the gravel, but don't allow the water to touch the bottom of the pot.
Feed the gardenia a fertilizer for acid-loving plants. Apply the fertilizer regularly, according to the package directions. Don't fertilize during fall and winter.
Re-pot the gardenia when the roots begin to grow through the drainage hole in the bottom of the container. Move the shrub to a container one size larger. If the container has been used previously, scrub it with a mixture of one part household bleach to nine parts water, and rinse thoroughly.