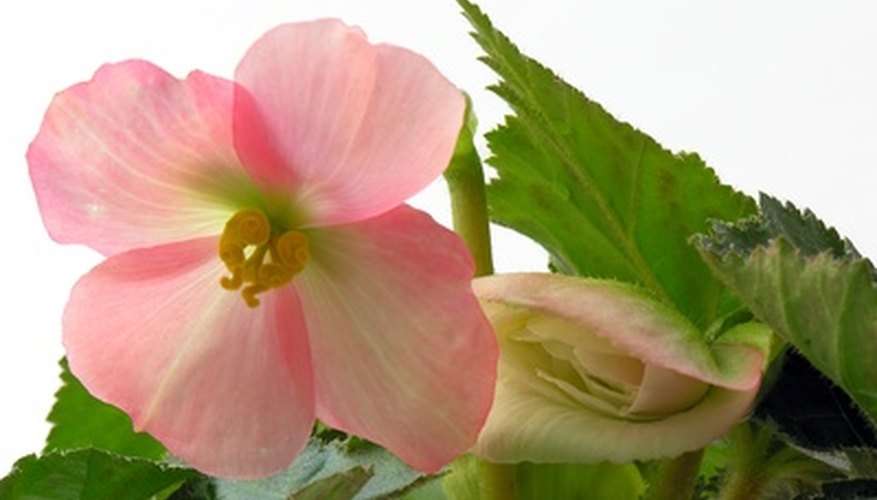 Light up the garden with bright annual flower blooms. Grown in dozens of varieties, annual flowers are ideal for flanking a garden walkway or mixed flower border, making for a showy garden display. Annual flowers bloom for only one season to eventually die down at the end of the season, but during their blooming season provide vibrant colors and unusual textures and shapes to the garden.
Hardy Begonia
Hardy begonia (Begonia grandis ssp. Evansiana) is an annual flower with a clumping growth habit and moderate growth rate. Growing 1 to 3 feet tall and wide, hardy begonia flowers are ideal flowers to tuck into a flower container or hanging basket. The fragrant, pink to white flowers of the hardy begonia are pendant-shaped and emerge in mid-summer to last until the first frost, making for a long-lasting garden flower. The heart-shaped leaves of the hardy begonia are large and hold the sprays of draping blooms. Along the underside of the hardy begonia foliage runs a red vein that, when hit by sunlight, creates a magnificent display. Hardy begonia flowers require part shade and well-drained, nutrient-rich soil that is moist.
Snapdragon
Snapdragons (Antirrhinum majus) are annual flowers with colorful blooms. Growing 6 to 36 inches tall and 6 to 10 inches wide, snapdragon flowers make good fresh-cut flowers. The tubular-shaped flowers of the snapdragon grow in tall, upright spikes that also hold the lance-shaped, oval leaves. The blooms on the snapdragon grow in a wide range of colors including white, red, yellow, pink and orange. Planted in a rock garden or as the backdrop of a perennial bed, snapdragons make for a striking garden flower. Beginning in early summer, snapdragons emerge to last until fall. To promote a long flowering season on snapdragons, deadhead or remove the spent blooms as soon as they are visible. Snapdragons require full sun to part shade and fertile, well-drained soil to thrive.
Plume Cockscomb
Plume cockscomb (Celosia argentea var. plumose) is an annual flower that emerges in summer to last until frost. A long-lasting garden flower variety, plume cockscomb grows 6 to 36 inches tall and 6 to 12 inches wide. The upright, feather-like flowers grow in a wide range of bright colors including red, yellow, pink, purple and orange. Plume cockscomb requires full sun and well-drained, moist soil. Versatile plume cockscomb tolerates a wide range of soil types including dry and poor soils.