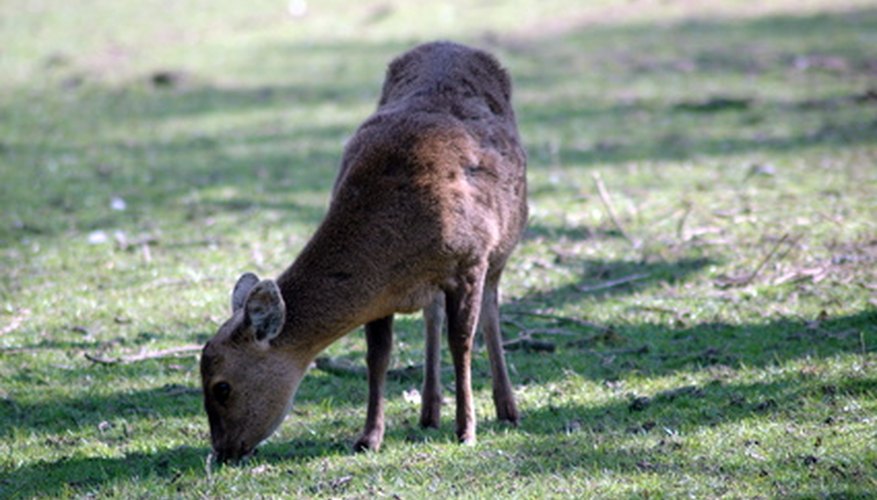 Establishing a wildlife food plot using rye grass will supplement a food source for many species of animals. Deer and wild turkey will graze the green ground cover even in the midst of winter. Many species of rye grass are fast-growing and tolerant to below freezing temperatures. Rye grass has an advantage of germinating even in the poorest of soils. Typically the existing ground cover does not have to be turned under as the rye grass can be broadcasted over the soil. Clover seed can be mixed with the rye grass to offer a variety to the food plot.
Knock down any existing vegetation over the food plot area if possible using a lawn mower or an attached bush hog to a tractor. Typically, mechanical cultivation is performed one month or more prior to any planting. Some food plot locations may be too remote to access with equipment.
Conduct a soil test to the food plot area if possible. The soil test will give you results as to how much and what type of fertilizer needs to the applied to the soil. Typically, multiple samples are taken with a shovel around the food plot. The soil is mixed together and allowed to thoroughly dry. A small amount of the overall mixed soil is sent to the agricultural extension service. Results generally take six weeks for the final laboratory printout.
Apply the recommended fertilizer to the food plot as per the soil test results.
Broadcast the rye grass seed in the mixed ratio with the clover. The clover will offer a good mixed nutrient to the food plot. The recommended seed mix ratios will work for most any type of soil preparation.