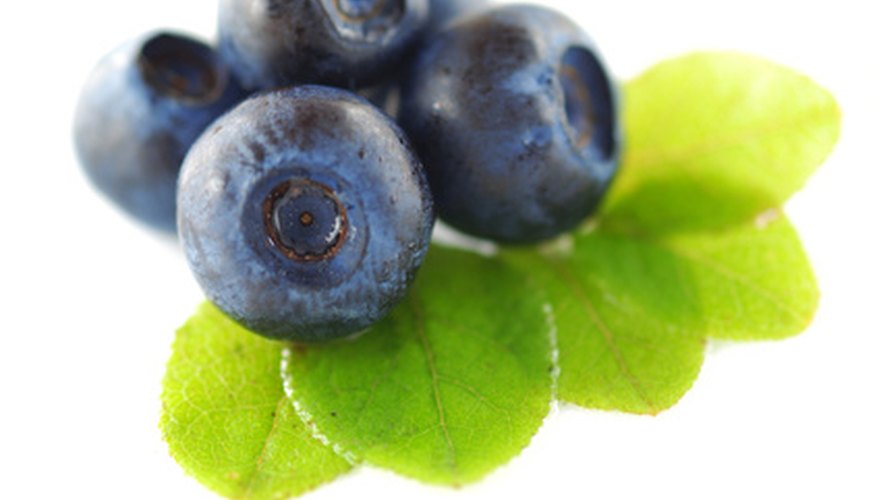 The state's cold climate makes growing blueberry plants in Michigan a challenge, but many commercial farmers are up to the challenge--the state is a leading producer of blueberry crops, according to Michigan Department of Agriculture. Hearty varieties survive if the snow insulates plants from cooler temperatures and the soil conditions are right. Blueberry plants require acidic soil with a pH range of 4.0 to 5.0. They perform even better in sandy, well-drained soil that is high in organic matter.
Lowbush
Lowbush blueberries belong to two species: Vaccinium augustifolium Ait. and Vaccinium mytilloides Michx. These hearty natives survive the cold winter temperatures of Michigan's Upper Peninsula and northern portions of the Lower Peninsula. Most plants only grow 12 to 20 inches tall. They spread via underground rhizomes, and so form mats of glossy foliage and edible fruit. A few cultivars exist, but garden suppliers usually carry wild saplings, which means the color, size and taste vary from one plant to the next. For this reason, lowbush blueberry plants are not widely used in landscape planting schemes.
Highbush
Highbush blueberry plants derive from the species Vaccinum corybosum. They play an important role in Michigan's commercial fruit production. Improved varieties do better in the bottom half of the state, where the risk of late spring and early fall frost injury is not as great. Highbush blueberry plants form 6 to 12 feet tall upright or spreading shrubs. The flowers take on a whitish or pinkish color. The Bluecrop cultivar remains the most widely planted. Bluecrop plants produce medium to large, light blue fruit with a firm texture and good flavor.
Half-High
Commercial growers prefer hybrids because of their reliable yields and the half-high blueberry represents just such a variety. Half-high blueberries produce the large fruit of the high bush (Vaccinum corymbosum) and the cold-heartiness of the low-bush (Vaccinum augustifolium). Commercial crops grow in Western Michigan, where the climate and soil conditions promote better crops, but small patches occur throughout the state. Half-high blueberry plants possess a bushy, woody habit, and do not grow over 3 feet tall. The Northblue cultivar continues to gain popularity with commercial growers and gardeners. Northblue plants yield medium, dark blue fruit of medium firmness and fair to acidic flavor.