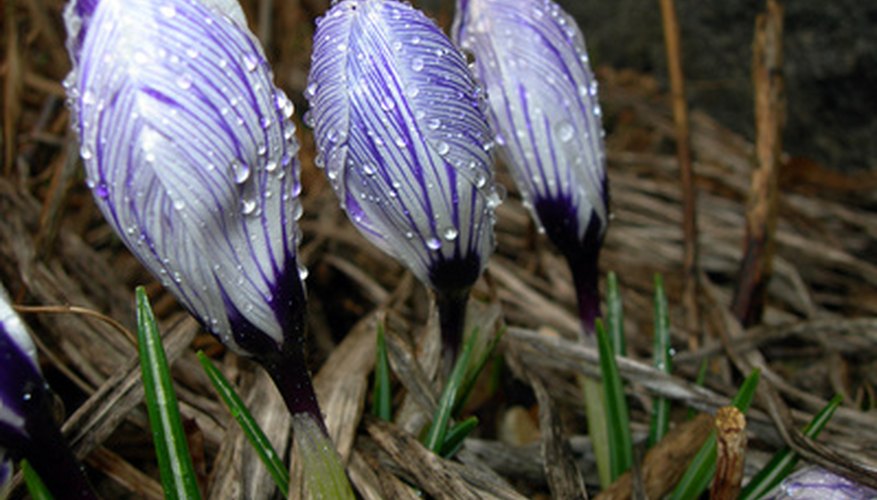 Spring flowers include bulbs and perennials that lay in wait all winter long for the soil to start to warm before appearing. The seemingly sudden emergence of spring blossoms is a sure sign that winter is over and warm weather is a step closer. Plant your spring bulbs and perennials in areas that need a bright color spot to chase away the winter blues. Spring flowers are commonly mixed in with summer and fall bloomers to create a season long show of color.
Lenten Rose
Lenten rose (Helleborus orientalis) produces 12- to 18-inch tall flower stalks over a low mat of green leaves. The white and rose blossoms are nodding, cup-shaped blooms. Lenten rose grows in USDA hardiness zones 4 to 9. This perennial prefers fertile, moist, good-draining soil located in the shade.
Moss Phlox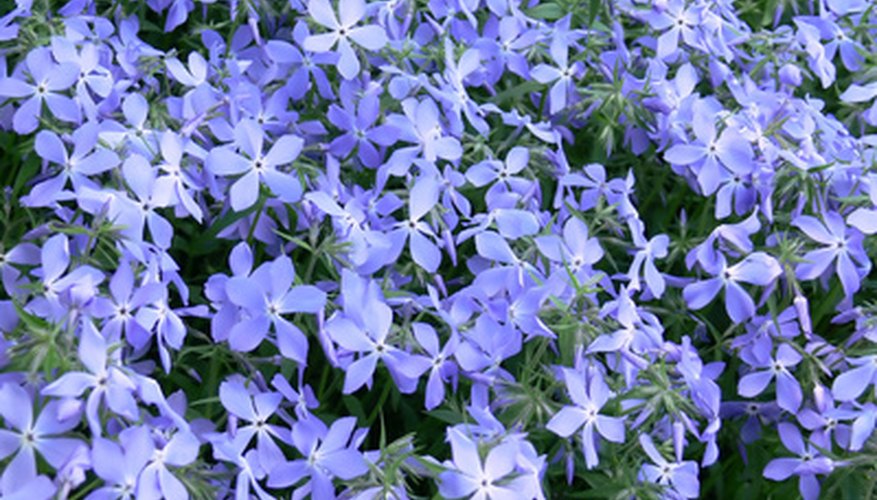 Moss phlox (Phlox subulata) is a low-growing evergreen perennial in USDA hardiness zones 3 to 9. The dark green, needle-like leaves form low mats. Pink, red, lavender, violet and white blossoms appear in April and early May. Moss phlox likes moist, good-draining soil in full sunlight or partial shade. Shear the terminal ends of the branches after flowering to promote growth.
Pasque Flower
Pasque flower (Pulsatilla vulgaris) is a perennial with fern-like, green leaves that grow low to the ground in USDA hardiness zone 5. Cup-shaped flowers loom over the foliage 8 to 15 inches in height. Red, purple, lavender, pink and white blossoms provide color in flower beds and borders. Pasque flowers prefer moist, well-draining soil in sites with full sun exposure.
Siberian Squill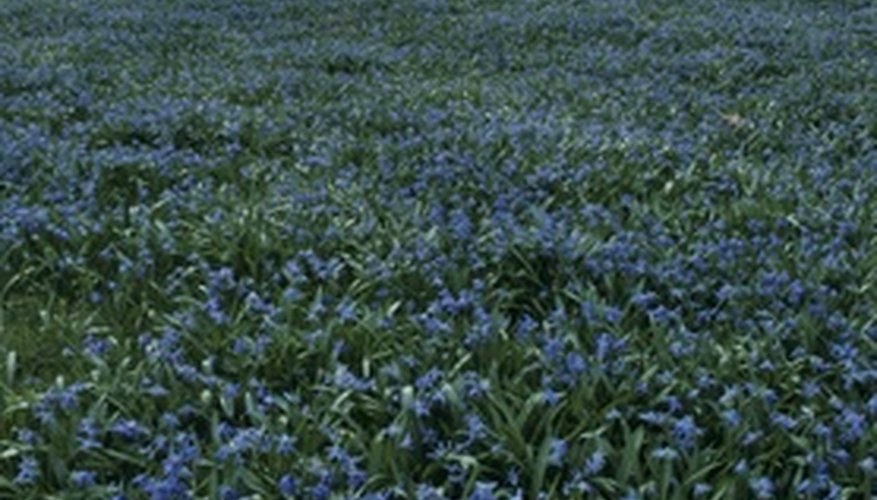 Siberian squill (Scilla siberica) is an upright growing bulb reaching 6 inches in height. Clumps of grass-like leaves are bright green. Dark blue, bell-shaped blossoms form clusters of three to five blooms in the early spring. This bulb prefers growing in full sun to partial shade. Siberian squill looks best when planted in masses. This flowering bulb prefers sandy, rich soil and thrives in USDA winter hardiness zones 2 to 8.
Snowdrop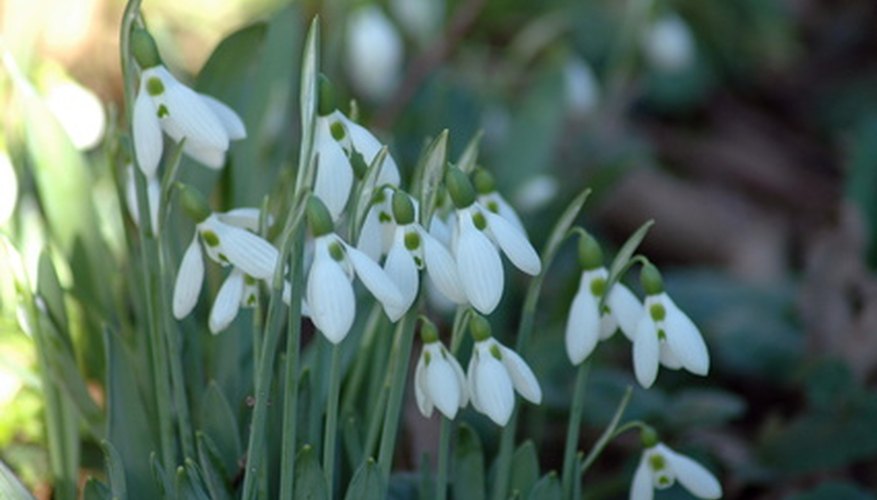 Snowdrop (Galanthus nivalis) is an early spring blooming bulb. The leaves form grass-like clumps with 6-inch flower stalks topped with clusters of white bell-shaped blossoms. The nodding flowers have a waxy appearance. Snowdrop bulbs prefer cool moist soil areas in full sun or light shade. They look best when planted in groups in USDA hardiness zones 3 to 7.
Virginia Bluebells
Virginia bluebells (Mertensia virginica) have oval, green leaves growing up 12- to 24-inch flower stalks. Blue trumpet-shaped blossoms form drooping clusters at the top of the stalks. Virginia bluebells begin to flower in spring in moist, fertile woodland clearings in USDA hardiness zones 3 to 9.