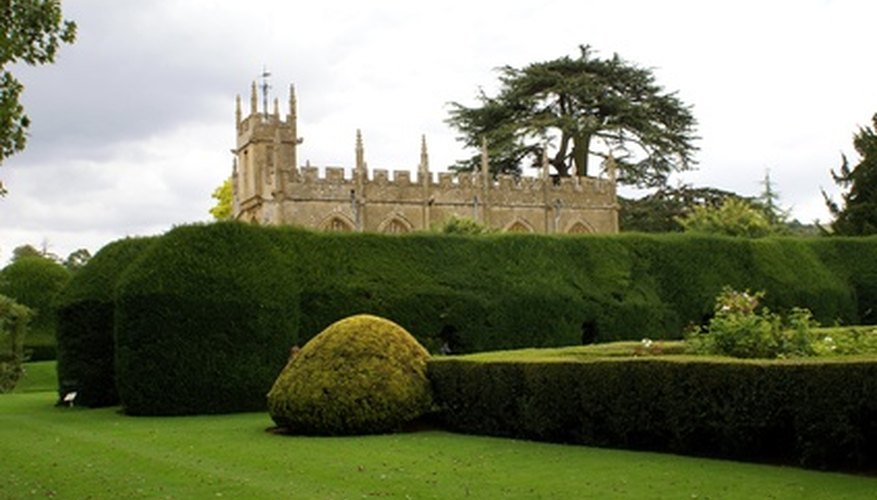 Boxwood shrubs serve as a staple in foundation plantings for home landscapes. These plants offer a uniform shape and evergreen foliage to provide year-round interest in the landscape. Boxwood shrubs also serve as an excellent hedge plant or topiary. This versatile shrub can stand alone in the landscape or blend beautifully with blooming annuals and perennials.
Characteristics
American boxwood is one of the most common shrubs used in home landscape design. This shrub produces small, oval leaves that grow in a compact growing habit. Boxwood produces multiple branches jutting in every direction to create a thick, full hedge shrub. Larger cultivars can reach up to 15 feet in height and width. Dwarf varieties form a pleasing rounded mound in border or foundation gardens. These cultivars reach about 4 feet at mature growth size.
Sunlight Requirements
Most varieties of boxwood prefer a partial shade location to keep soil temperatures cool around tender roots. The littleleaf boxwood tolerates full sun and makes the perfect plant for a sunny foundation garden. The versatility of this plant also allows planting in deep shade gardens.
Soil Needs
Boxwoods cannot tolerate poorly drained soils near downspouts or in rain gardens. Place these plants in a well-drained location featuring plenty of organically amended soil. Compost, peat moss or manure will benefit the shallow growing roots of this evergreen. Apply a regular layer of mulch to the garden to add further organic material to the soil on a regular basis.
Fertilization
Boxwood shrubs do not require regular fertilization. When planted with adequate organic material and regular additives of new organic material, the boxwood should require no additional fertilization. If a plant exhibits yellowing of leaves near the based of the shrub, the cause probably stems from nitrogen deficiency. Do not apply fertilizer to the boxwood. Take a soil sample to the nursery of your state's cooperative extension service to determine which additives will remedy the boxwood's growing conditions.
Considerations
The dense foliage of the boxwood often invites gardeners to their first attempts at topiary. Boxwood will tolerate shearing and produces new growth at each cutting point. This shrub serves as the perfect hedge shrub with its dense foliage. Boxwoods also benefit from a regular watering schedule because roots lie close to the surface. Despite the sage or location of the shrub, water deeply during times of drought at the base of each plant. Trickle irrigation through a soaker or regular garden hose with a light water flow for 30 minutes will greatly benefit the health of the shrub. Mulch also helps to retain moisture around boxwood shrubs.