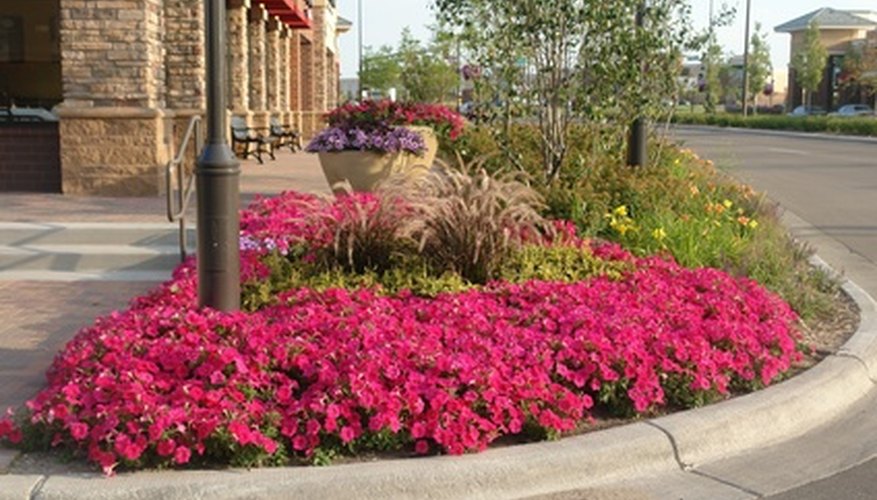 To get the best possible look out of your flower garden, you'll want to keep weeds down and hold moisture in the soil. This can be achieved by taking a weekend to prepare your flower bed with landscaping fabric and mulch. Once you use landscaping fabric in a flower garden, you can add plants any time you need, even if it isn't right away, while still keeping unwanted weed growth away.
Rake over the flower garden area to remove twigs, leaves and other debris from the bed. Dig up any weeds as you see them with a hand trowel to ensure you remove the plant with the roots.
Start along one long side of the garden and roll out a length of landscaping fabric from one end to the other. Cut across the fabric to start a new piece. Overlap each new piece over the previous piece by 3 to 4 inches.
Continue to spread the fabric in long strips until it covers the entire bed, cutting an X with box cutters in the fabric where needed to let existing plants through. Use U-shaped landscaping pins as needed every 5 to 10 feet to hold down the overlapped portions just enough to keep them in place.
Spread a 2- to 4-inch layer of mulch over the fabric to cover the whole bed. Be sure to keep the mulch from working under the overlap of pieces as you layer the bed and spread the mulch.
Add new plants when you are ready by moving the mulch away from the area with your hand and cutting an X in the fabric. Dig a hole under the X large enough for the plant and set it in the ground. Move the fabric opening around the new planting and reposition the mulch around the base of the plant.