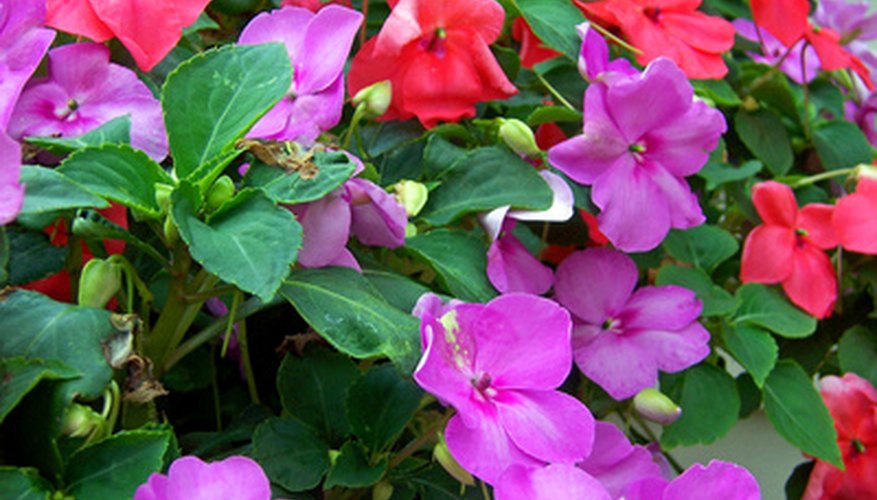 Shade comes in many forms in the gardening world. Full shade areas experience no direct sun during the course of a day. Semi-shade gardens feature roughly two to four hours of sunlight each day and require plants that have adapted to these lower light conditions. Choosing annual plants for the semi-shade garden requires a good understanding of plant light requirements based on recommended grower conditions for each plant. Check the labels provided with every annual plant to determine if the plant will tolerate the semi-shade garden.
Impatiens
Impatiens includes over 500 cultivars in this family of beautiful shade plants. Dark green leaves feature a classic oval shape to frame the long-lasting five-petal flowers. Blooms appear in red, pink, white, orange, purple and include many bi-color flower options surrounded by foliage that reaches 24 inches in height. This plant prefers organically rich moist soil and partial shade to shade garden locations. Impatiens gets the name from the seedpod that develops at the end of the summer blooming period. The little pod explodes when lightly touched to disperse seeds around the garden. Collect these tiny seeds at the end of the growing season to start seedlings the following year.
Ageratum
Few plants have the ability to produce a beautiful flower that also adds unique texture to the garden. Ageratum does this perfectly with puffy flowers in blue, pink or white. Foliage is nondescript ovals, but does create a beautiful backdrop since it provides contrast for the fluffy flowers. Mature growth height reaches 12 inches. Ageratum grows in a mounded form for use in borders or in container gardens. Ageratum requires partial shade and deadheading to produce continual blooms. This plant from the aster family prefers moderately organic soil in a well-drained planting location.
Lobelia Erinus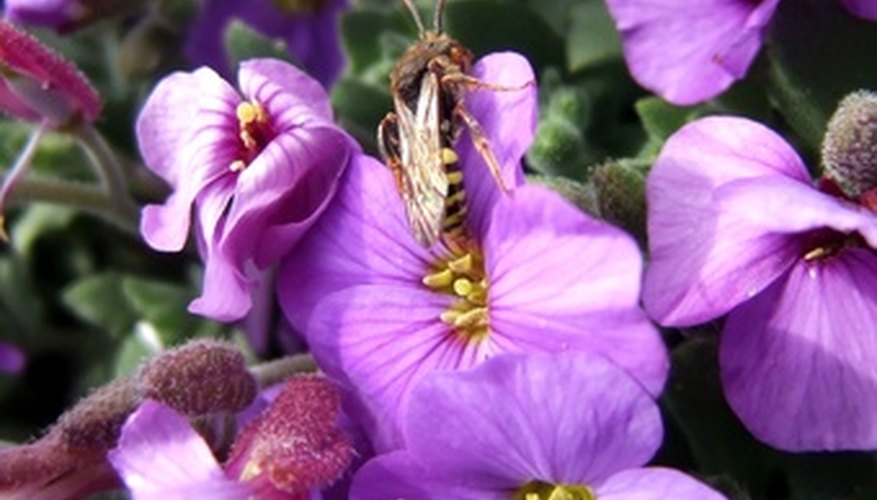 Gardeners often seek out plants with mounding and trailing growth habits for use in rock and container gardens. Lobelia provides the perfect fit for these locations. This plant reaches a mature height of 6 inches. Lobelia prefers partial shade locations with cool organic soil. Foliage takes on a burgundy hue for dark flower cultivars with the light-colored flower plant retaining standard green foliage colors. Lobelia flowers come in blue, purple or mauve as five-petals on the top of the flower and two petals on the bottom. The effect makes these blooms look like butterflies. Lobelia retains flowers throughout the growing season with adequate water.
Coleus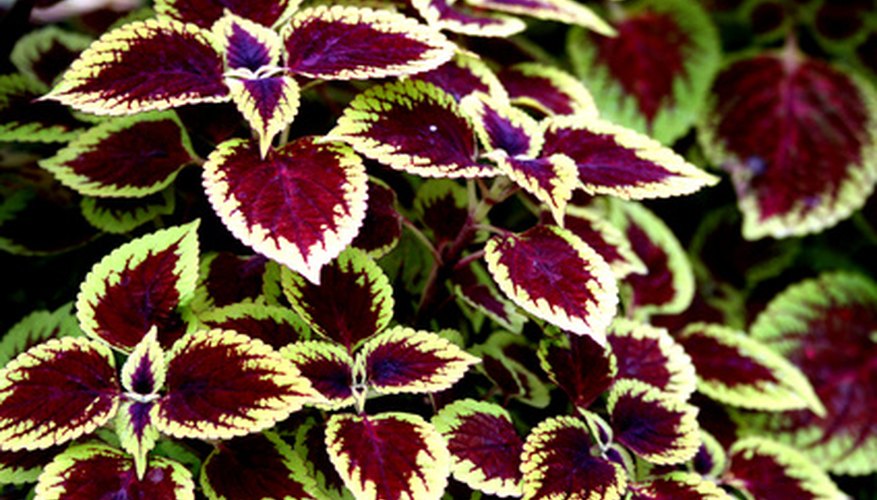 Shade gardens beg for different colors and afford the gardeners the great benefit of foliage-rich plants. Coleus produces variegated foliage in purple, magenta, green and yellow. Leaf color can be literally any combination of these colors and often features a bright center lined by a striking darker color. Coleus adores the semi-shade location and prefers rich organic soil. These plants experience mounded bushy growth and can reach heights up to 3 feet depending on the cultivar. If you quickly develop a fondness for coleus in other parts of the garden, growers now produce sun-tolerant varieties as well.