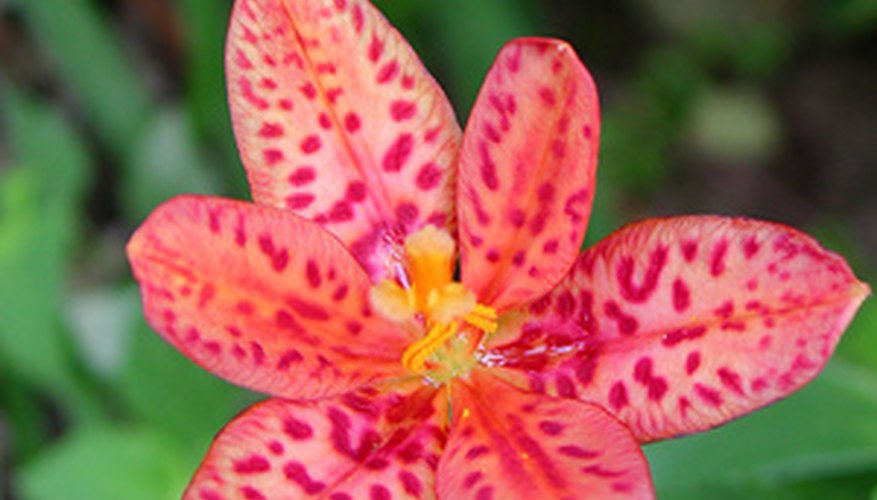 The toad lily is a unique flower with several species. The flowers are small star or trumpet shaped growing on 1 to 3 foot stems and foliage spreading a foot or two. Toad lily flowers are spotted with purple, brown or reddish spots while the main colors range from whites to pinks to yellow. These are great perennial plants to have for the shadier areas of the garden where other flowers may not grow. Toad lilies bloom in late summer to fall and in some species the flowers will last until frost.
Choose a location that has part to full shade. In USDA planting zones 5 and 6, the plants should have a southern exposure or some sun during fall and winter. Damp areas are fine as long as they drain well and water does not pool. Plan planting for spring.
Dig a hole or a bed to the depth of 6 inches. When planting a single rhizome-type bulb, the width of the hole should be wider than the rhizome so it isn't crowded in the hole. Clean the removed soil of all weeds, lawn grass and stones.
Amend the soil with 1 part compost to 1 part peat moss and 1 part original soil. The soil must be rich and drain well.
Lay the rhizome down in the hole and if planting more than one, place them at least 1 foot apart so as not to crowd them. Cover the rhizomes with the amended soil.
Water completely immediately after planting and keep the soil evenly moist through flowering. Never allow the rhizome to dry out.
Place much over the soil above the roots to keep them cool and moist throughout the hot summer. The mulch will also keep weeds from competing with your toad lilies for nutrition.