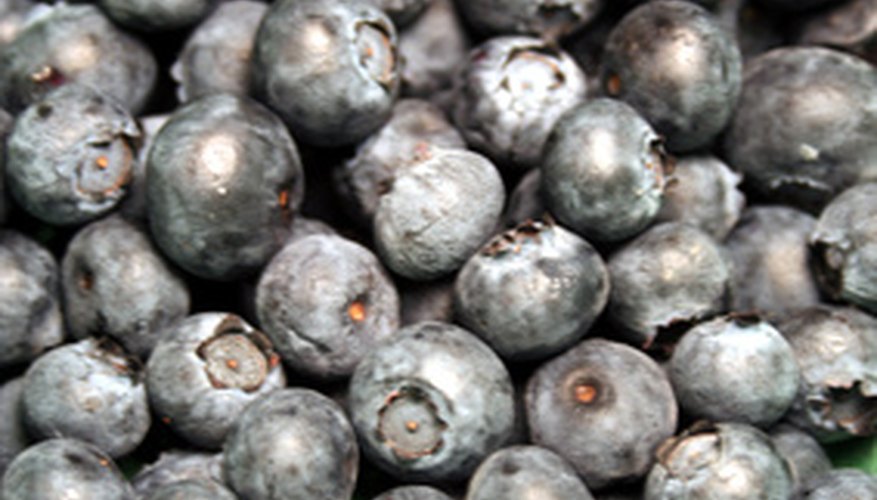 Vancouver's moderate coastal climate has proved to be ideal for growing blueberries. The temperature, which is one of the mildest in Canada, leads to a growing season that runs from late February through October. The lack of hard freezes prevents damage to the blueberry bushes and makes them more hardy. The constant, gentle rainfall, coupled with the sandy and fertile soil in the area, also help the bushes to thrive. The majority of the blueberries grown in Vancouver are of a type known as Northern Highbush, and a number of varieties of this type do very well in this area.
Duke
Duke is the most popular blueberry in Western Canada. The large, light blue berries have a mild flavor and ripen early in the season. The plant continues to produce fruit through the end of the growing season, which gives Duke a very high yield compared to other bushes.
Earliblue
Earliblue is one of the earliest blueberry varieties available. It produces medium to large, light blue berries with an intensely sweet flavor. It does not have as high a yield as other varieties, and growers must avoid planting this bush in soil that does not drain well.
Dixi
Dixi produces large, deep blue berries with a delicious sweetness. It blooms with a profusion of white and pink flowers and, after the fruit ripens late in the season, the foliage turns yellow or deep red making it a lovely ornamental shrub. This blueberry needs acidic soil and must be carefully watched, as it is not always very hardy.
Toro
Toro blueberry bushes are one of the best bushes for cold climates. They produce a very high yield of large berries with a mild, sweet taste in mid-July. Beautiful as an ornamental bush, Toro blooms in white to deep pink blossoms that give way to bright red foliage in the fall. While this plant is self-fertile, you will get more berries if you plant two or three additional plants will give you a lot more berries.
Reka
Reka blueberries are ready for harvest early in the season. This variety is very adaptable, grows equally as well in peat, clay or sandy soil, and can handle wet ground better than most other varieties. It produces a dark blue berry with a good flavor and a bit of tartness.
Bluecrop
Bluecrop is one of the easiest plants to grow in Vancouver as it tolerates frosts and resists diseases such as ripe rot, gray mold and blueberry scorch virus. A mid-season, high-yield producer, the Bluecrop berry is large, light blue, a bit tart and quite flavorful.