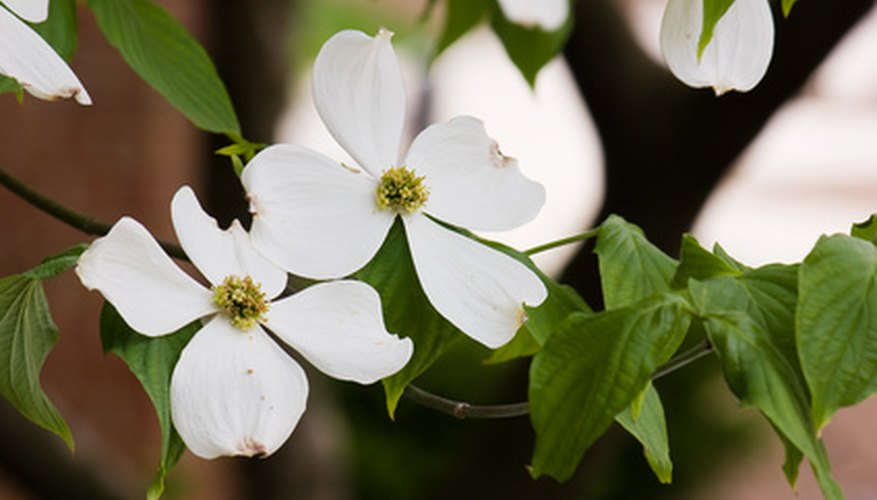 Flowering dogwood trees offer more than just spectacular, show-stopping blooms in the springtime. The tree's twisting branches also add form to the garden, while the fruits, twigs and new leaves appeal to a variety of wildlife and birds. Even the roots of the tree get used in organic dyes.
Landscape
The flowering dogwood tree makes a great ornamental tree for use in gardens, landscaping and along roads. The tree's color, texture and form work well as a one-tree focal point or in a border or row of trees. The tree also works well in quickly building a privacy screen between yards. Dogwoods also provide plenty of shade when mature.
Color
Gardeners and landscapers can choose from a variety of flowering dogwoods including Cherokee Chief, with its gorgeous red blooms, or White Cloud, with its creamy-white flowers. If you prefer yellow fruit, plant a Xanthocarpa Flowering Dogwood. Apple Blossom provides a profusion of pink flowers for a more delicate appearance. The Kousa dogwood offers blooms later than the other types of trees and features a softer-looking petal. Or plant a regular flowering dogwood tree and enjoy the white blossoms that cover the tree in the spring.
Wildlife
The dogwood's red fruits remain on the tree far into winter, offering resident birds a source of food when they need it most. Migrating birds also find the berries provide important nutrition on their long flights south. Upland game birds such as ruffed grouse and quail also eat the fruits. Almost every part of the tree offers a food source to some animal including bears, deer, squirrels, chipmunks and skunks.
Woodworking
When dogwood trees need to be removed or fall down in storms or during other events, consider sharing or using the wood for use in woodworking or craft projects rather than burning the wood. The hard but knotty wood carves very well and makes excellent golf club heads, jewelry boxes, tool handles and small furniture items. Store the wood in a dry, unheated location until you require the wood for your next project.
Cooking
The inedible fruit from the dogwood tree tastes acceptable when cooked. The first step in preparing the fruits includes removing the seed. The flesh of the fruit then gets mashed and mixed with other fruits to make tasty jams and jellies. Brandy can be infused with dogwood fruit to make a bitter-tasting drink.
Dye
While Native Americans used the roots of the flowering dogwood to make a scarlet dye, a comeback in organic, natural dye-making techniques has made the practice popular again. The roots of the dogwood tree make a beautiful red dye for coloring wool and other fabrics, clothing or crafts. The dye also works well mixed with other natural dyes to create a rainbow of colors.