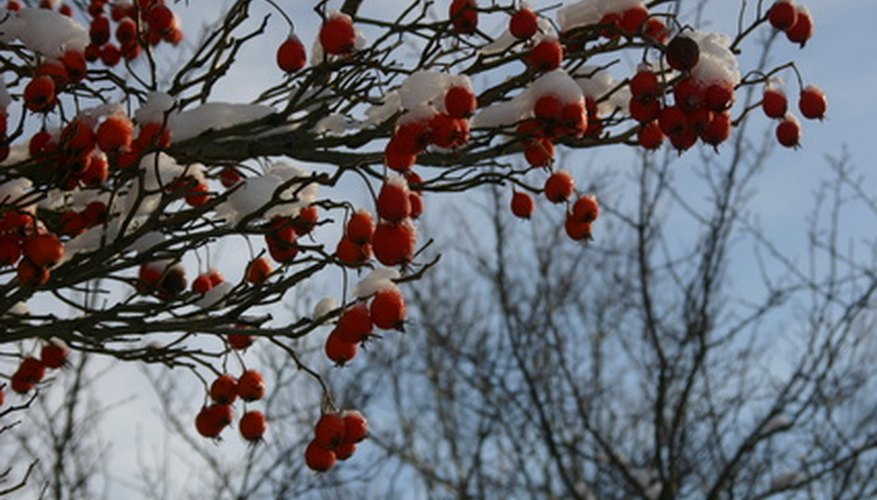 Mother Nature takes her nap in winter. Plants, trees, flowers and shrubs go to sleep as well in areas with cold weather. By late winter, most gardeners have had their fill of resting and are ready to get back to the great outdoors with their shovels, rakes, seeds and fertilizer. This year, plan ahead to get through the winter doldrums.
Winter Interest in the Garden
Place evergreens in the beds and borders to provide structure to the landscape. Evergreens stay green all winter long. Check with the agricultural extension of the local university to find the varieties that do the best in your area.
Believe it or not, there are flowers that bloom during the winter. Plant them in the spring or early summer. They may not bloom the very first winter but should thereafter. Witch hazel is a large bush, or small tree, with yellow flowers. It blooms in December. Snowdrops bloom as early as February. Icicle pansies stay green even when encased in ice. They continue blooming through frost. Manzanita blooms with tiny pink blossoms on red stems.
Create an Ice Rink
Remove about six inches of soil from the garden before the ground freezes. This works best in areas where you previously planted annuals and vegetables so you won't have to worry about disturbing bulbs and perennials. Mound the soil around the perimeter of where it's been removed. Rake the area smooth. Lay a tarp, or heavy plastic, over the area. When temperatures drop, fill the depressed area with water. Eventually it will freeze over and you'll have your own ice rink for skating or playing.
Start Seedlings
Start seedlings of cool season crops like leaf lettuces, spinach, chard, broccoli, cauliflower and cabbages in February, or about eight weeks before the average last date of frost. Plant in the garden as early as possible. Protect from late frosts by covering with straw or an upended plastic water jug cut in half. Seedlings may also be started in a cold box, which is simply a wooden box that has a glass top.
Grow Veggies Inside
Grow warm season vegetables inside through the winter. It will take a little extra care and attention, but fresh, juicy tomatoes growing near a sunny window are possible in the dead of winter. Do the same with green peppers and cucumbers. Cucumbers will need a trellis or support. Pollinate the blossoms by brushing each flower with a tiny paint brush, or better yet, a small makeup brush.